Why are Form Builders Needed?
Collecting data from site visitors is simple with online form builders. Learn more about website form builders and their significance here.
The times of recording with a pen and paper have gone. Staying aligned with the massive business goals, needs the most advanced solutions. Hence, Forms have evolved to fetch the business, optimize the lead generation, record the responses, and know the interest of the individuals. In every case, forms have become a core and regular part of the business. Though they are easy to create, there are huge developments taking place. Before clicking on another article, I want to walk you through the need for form builders and forms to help your businesses grow.
Need of Form Builders
Form builders capture the information of the individuals through fields. The purpose of filling out information varies depending on the business scenarios.
1. Optimize Decision Making Process
To understand the customers' interests, all you need to do is create surveys. Having basic details such as name, email address, contact information, and their spark of interest help you in making better decisions. The customer mind is all you need to get for the business to get on.
The performance in lead generation campaigns drives decisions for future campaigns.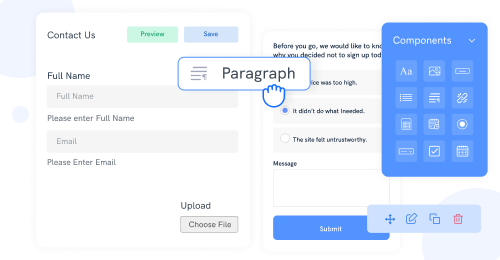 2. Save Costs
The market is full of new software tools. Purchasing software could be an up-front investment. The investment you make today can cost the future. The time invested for offline surveys - gathering people around, asking them to record their views, and again evaluating them is pretty time-consuming and, it's an invisible cost business don't get so far.
Switching to online forms could save costs and time as both are crucial business needs.
3. Increase Lead Generation
Suppose you are running an online campaign in search engines or social media. The target audience directly enters either the landing page or the page you've redirected them to. There must be some information to understand their mindset and requirements. How do you do that?
Forms enable such lead-generating aspects in an advanced way. Create a link to the forms on your website or include the fields by copying the snippet code. Forms are ready to record the responses of the visitors. Through emails and notifications, lead generation increases to a greater extent.
4. Sharing Made Simpler
Share Forms with anyone. The short URLs of the forms turn advantageous to share with everyone. You can also include or exclude the options to edit or just answer whatever is mentioned.
You can create polls and share them with any of the social media platforms or emails letting users participate.
5. Capture Effective Leads
Who knows the actual email address of a visitor who enters your website? Can you differentiate between a sportive player versus an average player? Forms can do it. You can identify the email address by highlighting the fields as necessary and formatting them. To some extent, field validation is done and this, in turn, adds value to boost your business goals.
6. Create Unlimited Forms for Free
For every business, surveys, feedback, creating fields inside landing pages, and the form responses recorded are needed to identify bottlenecks, areas of improvement, and customer behavior. And, to claim all these, a single form isn't enough; creating as many forms as you can help the businesses massively. You have the advantage of creating unlimited forms at no cost.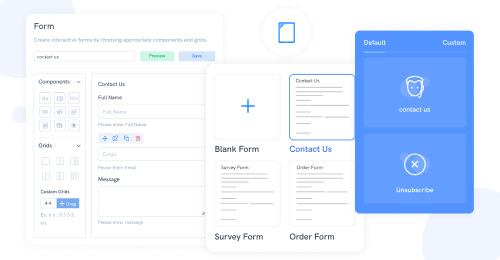 7. Get Email Notifications
You can turn on the notifications for the responses created. The responses are recorded in an excel spreadsheet and notifications come directly into your inbox. Personalized notifications could enable you to understand every aspect of the purpose.
8. Create Better User Experience
The customization is preferred by most individuals and forms provide the same to amazingly magnetize the users. Set themes, add animated images, videos, and select fonts and theme colors. Personalization gives a better user experience thus helping businesses to boost their target audience.
Forms come with amazing features to add benefits to the businesses. And, use cases are on the rise for the individuals to benefit maximum out of campaigns and surveys. A glimpse of real-time analytics in the form of visual representations are added benefits. Form builders have become the inner part of every business organization.
Forms.io by 500apps equips every functionality that helps businesses grow to the next level. The unique and advanced features enable you to dive into its powerfulness.