Who Needs Form Maker Software?
Here are important industries and businesses who uses form maker software and it helps to improve conversions, they should serve what their clients desire.
Form makers are one of the most essential software for businesses especially for the sales teams. Sales teams always need the much-needed information of their customers to run campaigns and serve what their customers want to increase conversions.
Form makers are helpful for all industries for which digital is the platform to spread the word. Today businesses in every industry use form makers to make meaningful conversations with their customers. However, form makers are used mostly by information and communication technology (ICT) companies.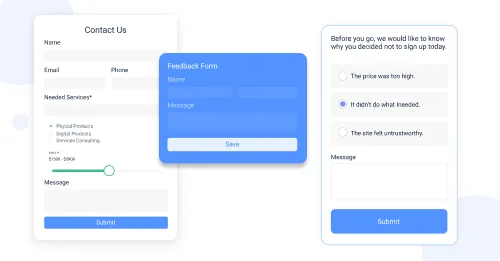 Sales and marketing departments need to have a big list of customers and their choices to run cold campaigns. Form maker software helps sales and marketing people to collect this necessary information and implement into marketing software solutions to run campaigns.
Usually, the following people use form maker software:
Lead generation executives
Sales and marketing departments of businesses
Recruiting professionals
Outreach specialists
Business development managers
Human resources team
Small and medium-sized businesses as well as large enterprises use form maker software to ensure their messages are reaching the correct people. Plus, since it is a cost-effective tool to enhance any organization's marketing efforts, small businesses can afford it just as easily as large companies.
To grow your business further form maker software helps sales people clear more sales by connecting with right people by enhancing your business further.