How To Create Online Forms
How would you go about it? You may need a build on your websites to collect contacts, take orders and payments, catch leads, or gain RSVPs. The good news is creating an online layout is quite easy.
Let's say you need to create an online form fast. How would you go about it? You may need a build on your websites to collect contacts, take orders and payments, catch leads, or gain RSVPs. The good news is creating an online layout is quite easy. This article will show you how to create an online form in easy steps.
Create Forms Easily With Forms.io
The best way to create online forms is to use a simple form builder compatible with different devices. Form.io is a quick and easy way to create online forms. You can create documents with the online tool in the following easy steps: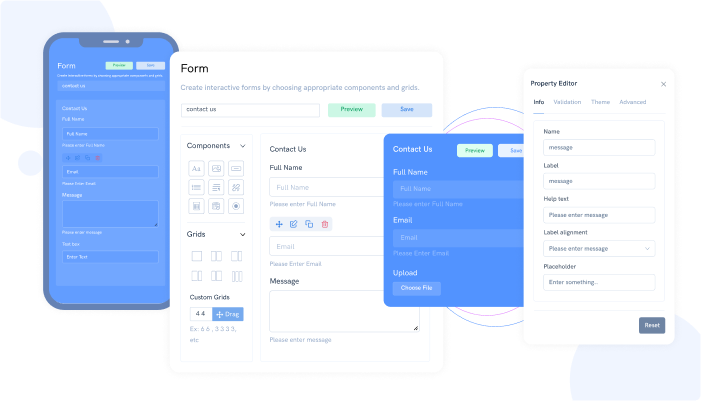 Navigate to the website
The first stage of creating an online form with Forms.io is to navigate to the tool's website. When you get to the website, locate the profile tab and click on it.
Pick a Type of Form
When you click on the profile tab, you will be directed to the next page, where you will be prompted to input your login details for the website. For example, input your login credentials if you have an account with form.io. After this, you'll be taken to the Home Page.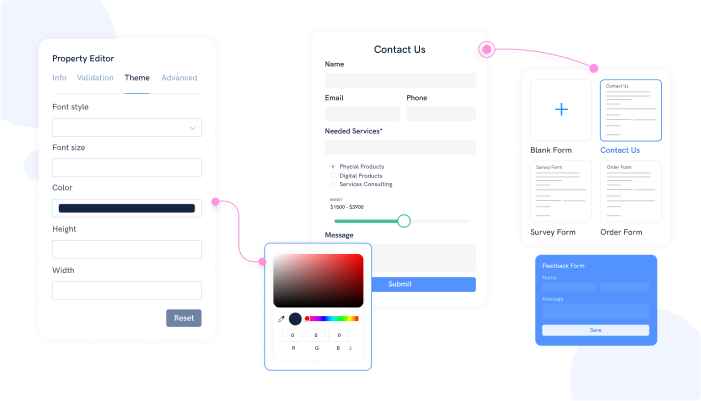 Click on New Form
Click on Forms on the left-hand side of the page. When taken to the online form builder, click on +New Form.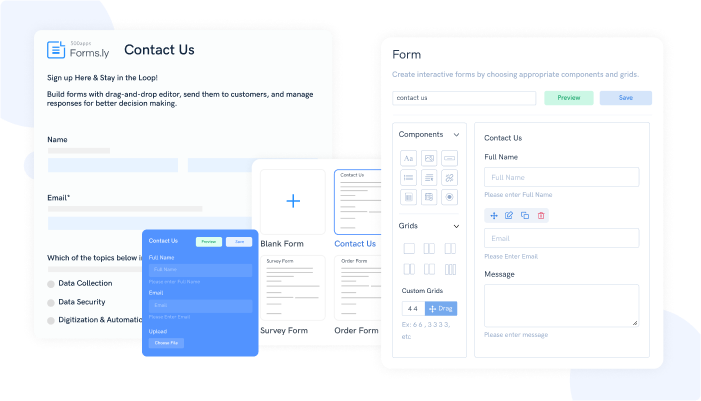 Add Fields to the Form
You are free to customize your fields anyhow you like them. The area's title should correctly reflect their purpose, not track web users. You may use attention-grabbing questions that prompt the user to fill the form quickly and accurately.
Save the Form and Use It
When creating the form, click on "Use" to save the document. Then, you can use the Embed Tab to add the form to the website of your choice.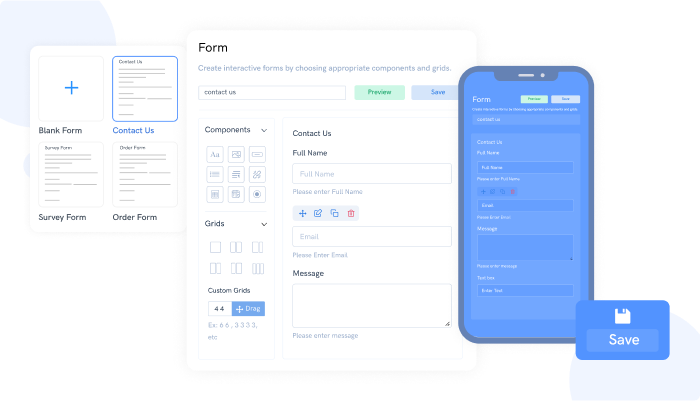 Best Plugin to Create Online Forms
As mentioned earlier, you need a reliable tool to help you create the best online forms. If you are looking for a reliable form builder software to start online forms for your website, opt for Form.io. This website is an online tool that can help you integrate your forms easily into 3rd party providers and legacy systems.
Forms.io
Form.io is a unique form builder software with the best features to help you create dynamic and reliable online forms. This tool is popular because it can connect online forms to virtually anything, including webhooks, WebSockets, and integrations. It's an advanced system that will help you customize every aspect of your documents while controlling the data. In addition, there is an instant API creation when you choose to develop forms here. This system also supports user management and authentication if that is not enough.
About Forms.io Online Form Builder
This online form builder offers advanced features such as a drag and drop interface. In addition, all the data that is gotten from the website is managed from a complete API platform. The form builder software has been used to create forms for small and large, including legal, healthcare, insurance, banking and finance, online retail, compliance, and technology websites. The tool's features allow users to create forms and connect them to the web system.
What Types of Forms You Can Create
Creating forms on Form.io is as simple as dragging and dropping the form components you want. Using this system, users can create offline forms from any part of the world. These forms support the collation of valuable information when input and synchronize it with the website when the user goes online. The online form builder also allows users to create dynamic forms. Unlike offline forms, emotional conditions are JSON-powered. Therefore, users can input them into any application. Furthermore, they can be completely rendered with the application to give complete control to the user.
Why Choose Forms.io To Create Online Forms
There are many reasons why you should create your online forms with Forms.io. They include;
Option to connect to many apps:
Forms.io can help users create dynamic forms to communicate to different application types. It supports seamless 3rd-party integration.
Usability:
When you create forms with this tool, it automatically generates a REST API that supports the constructed formats with available resources.
Functionality:
Unlike other form online builders with limited functionality, Forms.io supports private cloud and on-premise deployment.
Pricing:
Despite its advanced features, the online form builder is affordable to use.
Conclusion Creating online forms should be a simple process. With the right online form builder, you can simplify form creation. If you wish to learn more about setting up advanced online forms with the best plugin tool, read the details explained in this article.