Best Contact Form WordPress
Form builders are easy-to-use and allow you to create beautiful, interactive forms that make collecting user data quick and painless.
Form builders are easy-to-use and allow you to create beautiful, interactive forms that make collecting user data quick and painless. They're designed to be intuitive and simple to use, which means that your visitors will have a great experience when filling out forms. You can't just install a plugin, add it to your theme and expect that it'll work perfectly with all the themes you're using. There are several factors to consider when choosing the top contact form WordPress form builder. With the rise of WordPress CMS and its popularity, form builder plugins have become essential for every WordPress website. You can easily collect user data like name, email, address, phone number in your WordPress site using certain plugins. Contact forms are one of the most effective ways to increase website conversions. There are numerous contact forms available for WordPress sites. However, not all contact forms are created equal. Some of them don't even work properly. In comparison, the others lack features and design options that make them look and feel unprofessional. This is why we bring the best contact form for your WordPress sites in 2022. So buckle up and keep reading because this is going to be the most powerful WordPress form that you may haven't heard.
This Is The Best Contact Form WordPress Site Owners Could Ask For
Forms.io is the only contact form you need for a WordPress website. It comes with many unique features and design elements that make it the most advanced contact form on the market. It has been designed to capture leads, manage responses, collect payments and increase website conversions. In addition, it has an easy-to-use drag and drop feature that lets you customize the form with text, graphics, and other elements.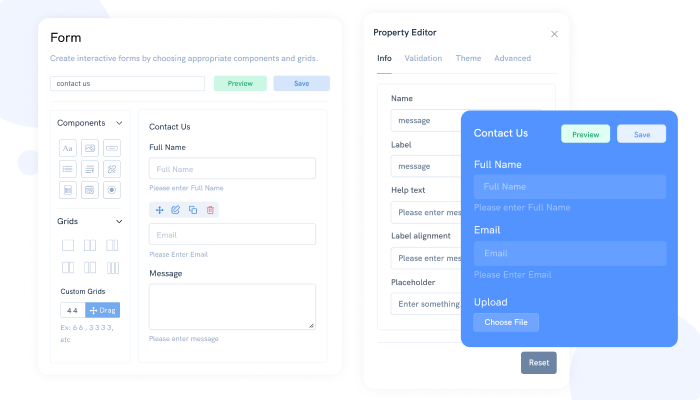 Introducing Forms.io
Forms.io is the top-notch form builder app that lets you create stunning forms that look great on any device. It has all the features you would expect from a form builder, including: - A large collection of layout and design options - A unique drag and drop builder that makes it super simple to customize the form - Powerful validation that helps you get your form submissions right every time - Intuitive workflow that makes creating forms a breeze - Wide range of form templates to get started - Easily integrate with various apps to collect payment - Embed forms into your website with the HTML code - Get notifications to your email when a new user signs up or when someone completes a form - Forms.io plugin for WordPress sites - No coding is required to design engaging forms - Create multi-step forms in minutes - Add a custom file upload option to collect the documents and other types of data
Benefits of Forms.io
The value that forms.io brings is unmatchable because it provides you with a comprehensive list of features - makes the entire process easy and simple. No longer have to spend hours fixing each form submission. You can easily get useful information from your visitors to quickly improve your conversion rate and goal completions.
Here are some benefits of using Forms.io:
1) Create Custom Forms:
Use drag and drop form builder to create online forms without writing code.
2) Editable Components:
Editable text, images, buttons, checkboxes, file uploads, and more, all with no HTML knowledge.
3) Add Grids:
Easily Add rows and columns to present customers with products and services you offer.
4. Dynamic Form Builder:
Easily create complex forms, validate fields, add custom validation.
5) Advance User Interface:
It provides a rich user interface that gives you control over every aspect of the form design, from the layout to the look & feel.
6. Real-Time Form Editing:
This allows you to edit your form in real-time as you are designing it.
7) Live Preview:
Enables you to see how your form will look like on the users' screen.
8) Works With All Browsers:
No Browser Snobbery! It works with all major browsers (Internet Explorer, Firefox, Chrome, Safari, and Opera) on both Mac and PC.
9) Online Payment:
Add a payment method to your form for people to pay for products or services without leaving your site.
10) Easy Form Management:
Create an unlimited number of forms using the drag & drop feature.
11) Response Management:
Get the data you need to make smarter decisions. Everything you need to analyze and make sense of your customer data.
12) Infinity 500apps:
Access to 37+ apps for just $14.99/month, use any app you want, and enhance your marketing efforts at just one price. The only collection you need to level up your marketing campaigns is at your fingertips.
But Wait, What exactly is 500apps? This program includes 37+ apps to help small businesses grow at an affordable price. With only $14.99/month, you get all of the work-related processes in the palm of your hands. In addition, you get access to the tools required to drive your business's success. From analytics and marketing to customer support and CRM, 500apps covers it all. The wide range of apps allows you to manage your business from anywhere in the world, at any time, and in any way you like. Not only do the 37+ apps have incredible features, but they are also easy to use. All the apps have intuitive user interfaces that make them very simple and easy to use. The app collection is designed to provide you with a complete solution for your business needs.
Why Forms.io Is The Best Builder for Contact Forms in WordPress
Forms.io isn't just a traditional contact form; it's a groundbreaking form builder that makes it super easy to create impressive forms and collect data from your visitors. It's an all-in-one platform that enables you to create, edit and analyze all your contact forms from one place.
It has a fantastic collection of pre-made components that are super easy to drag and drop into your next project. And best of all, it is straightforward to customize.
It comes with a library of responsive and customizable templates. These templates cover all types of contact forms such as subscription forms, feedback forms, lead-gen forms, registration forms, survey forms, order forms, and more.
No code experience is needed! It's easy to get started with Forms.io. You don't need any special skills or experience to use this tool. In fact, even if you are a complete beginner, you can build a contact form in some minutes.
Why choose it over other forms? The main reason is that it gives you a lot of freedom to create your own unique forms. You are limited to the number and type of fields they allow you to add with other platforms.
It is feature-rich, but it is simple and intuitive to use at the same time. You won't have to learn a complicated interface to get the job done. The drag-and-drop functionality makes it easy for anyone to create professional forms. In addition, it's easy to embed the forms on your website. One of the unique features of forms.io is that you can integrate it with other services like stripe and SMTP.
You aren't just getting a full-fledged contact form but also the other 37+ apps that are highly essential for business marketing.
Conclusion: There isn't anything forms.io can't do. It has everything you need to create amazing forms, analyze the responses and bring leads. Collect data, and deliver personalization at the speed of light. So don't wait; take the first step towards getting more leads and sales by signing up for a free account.