Uses Of Survey Builder
In this article learn uses of the survey builder will help you to collect information about your survey participants, such as their name, email address, and more.
In addition to answering questions, you may also like to collect information about your survey participants themselves, such as their name, email address, phone number, and address. If you plan to collect personal information, it is important that you use several built-in fields for personal information added to your surveys to create personal requests and regular questions in the tool.
These questions will not be published on your website unless the survey is linked to a survey page. If you decide to publish individual "responses to your survey questions will be published on the Internet, but respondents" responses in the preformatted personal information fields will remain private.
Top 7 Uses Of Survey Builder
Create Unlimited Surveys
In multiple-choice questions, you can mark people based on the answers they choose. For individual questions, you can add new answers to the answer area. There is also an option where you can create an unlimited survey or one that is limited to 10 questions and 100 answers.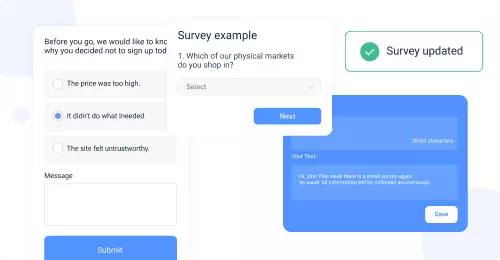 Forms.io is another tool that offers unlimited questions and answers about surveys. With SurveyLegends you can get unlimited question and answer options as well as e-mail sharing and embedding options. If you collect more than 100 responses per survey, it is best to use 3 free surveys with unlimited questions for target groups such as specific internal teams, selected customer groups, or those who have bought a product.
Collect Data Responses
It allows you to customize your forms, questionnaires, and surveys by placing company logos and providing images of your questions. Add your brand aesthetic and go one step further with this free survey maker that allows you to customize your survey design so you can create unlimited custom surveys without any question restrictions. Online forms enable the creation of sophisticated surveys and their response data can be collected.
The built-in survey itself is simple, and you can customize everything from welcome and thank you messages to drag-and-drop questions in the editor. At the top of the survey section, a menu is provided to manage, test, and make changes to advanced aspects of your survey.
User-friendly
If you want to complete the whole survey, you can open the site in a private browser (incognito mode) and enter a fake email address (one not a Control Panel user) so that you can complete the survey as a user without a Control Panel user. The software allows you to create a custom survey by adding a URL where you can ask questions by e-mail. Create a survey using the user-friendly and self-explanatory wizard.
With this tool, you can create surveys and transfer customer data to your CRM. One of the easiest ways to make surveys (especially if you are mobile) is to use the wizard which guides you through the creation of your survey and provides you with practical examples of question structure to help you decide the format of your survey. You can also create surveys with only one question to get precise answers.
Professional Surveys along with Customizability
You can create basic surveys with the free survey creation software, but if you want to come up with something more interesting and detailed, you need a special tool. With the tool form builder, which offers all the right question types, survey templates, frequently asked questions, an answers database, and individual design options, you can create beautiful professional surveys.
A good survey tool can help you reach out to your customers and improve your understanding of what they want, but also of how to offer a better business experience. Here are some questions you ask yourself all the time, and to find the answers you may need to use a special survey tool.
Greater Responses
The best survey apps allow you to choose from a variety of question types (multiple choices, short answers, evaluation scales, etc.). And customize the questions to make them meaningful to the people they answer. Free survey creators offer many question options, from multiple choice to radio buttons, drop-down buttons to rating scales.
Edit or Change anytime with a Link
While you can use the former to create and edit your survey, you can also use the latter to view, organize and modify preferences of the responses to your survey. A solid online survey tool allows you to create a survey using logical branches, where you can instruct respondents to answer more questions based on their previous answers. You can perform simple tasks such as rearranging questionnaires or adding elements or branches of logic to guide and personalize respondents "survey experience.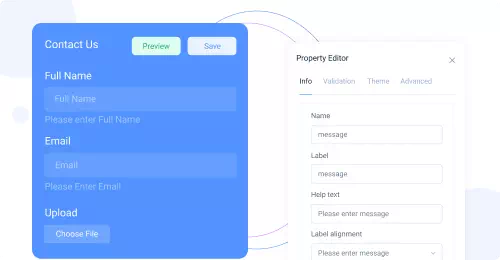 Survey Monkey is designed to be easy to use and you can easily embed surveys. Zoho Survey offers a free version of the survey maker with some limitations, such as 10 questionnaires and 100 response surveys. Survaricate offers professional survey and NPS features, starting with 100 free answers per month and unlimited questions per survey.
Forms.io offers an integrated questionnaire creation solution and metrics analysis tool as one of the most successful survey solutions with over 40 million registered customers. Forms.io is a survey maker that you should consider for the future with built-in data analysis tools, mobile compatibility, question branching, skip logic, and other features. Proprofs Survey Maker is a thorough survey tool worth trying out with a lot of ready-made templates, questionnaires, and over 100 question types.
Drag-and-drop Interfaces & API Integrations
It provides intuitive drag and drop tools with over a hundred question types, advanced logic, branching, quotas, API integration with Salesforce, and email triggers to help you create, launch and analyze your surveys. Based on more than one billion surveys worldwide, this online survey software enables you to answer critical questions about your product, brand, client, or market with survey solutions that manage everything from simple questionnaires to detailed research projects. Examinare is a survey tool that provides data mining capabilities and enables you to take surveys and conduct them on the web and on-site.
Surveys created with Forms.io are designed to increase response rates and are rich in innovative features, including hundreds of question types and multimedia clips, including a powerful range of feedback methods.