Steps to Improve your Business with a Web Form
Creating a web form can help your business thrive on many levels. With various form fields and features, you can discover the perfect web form today!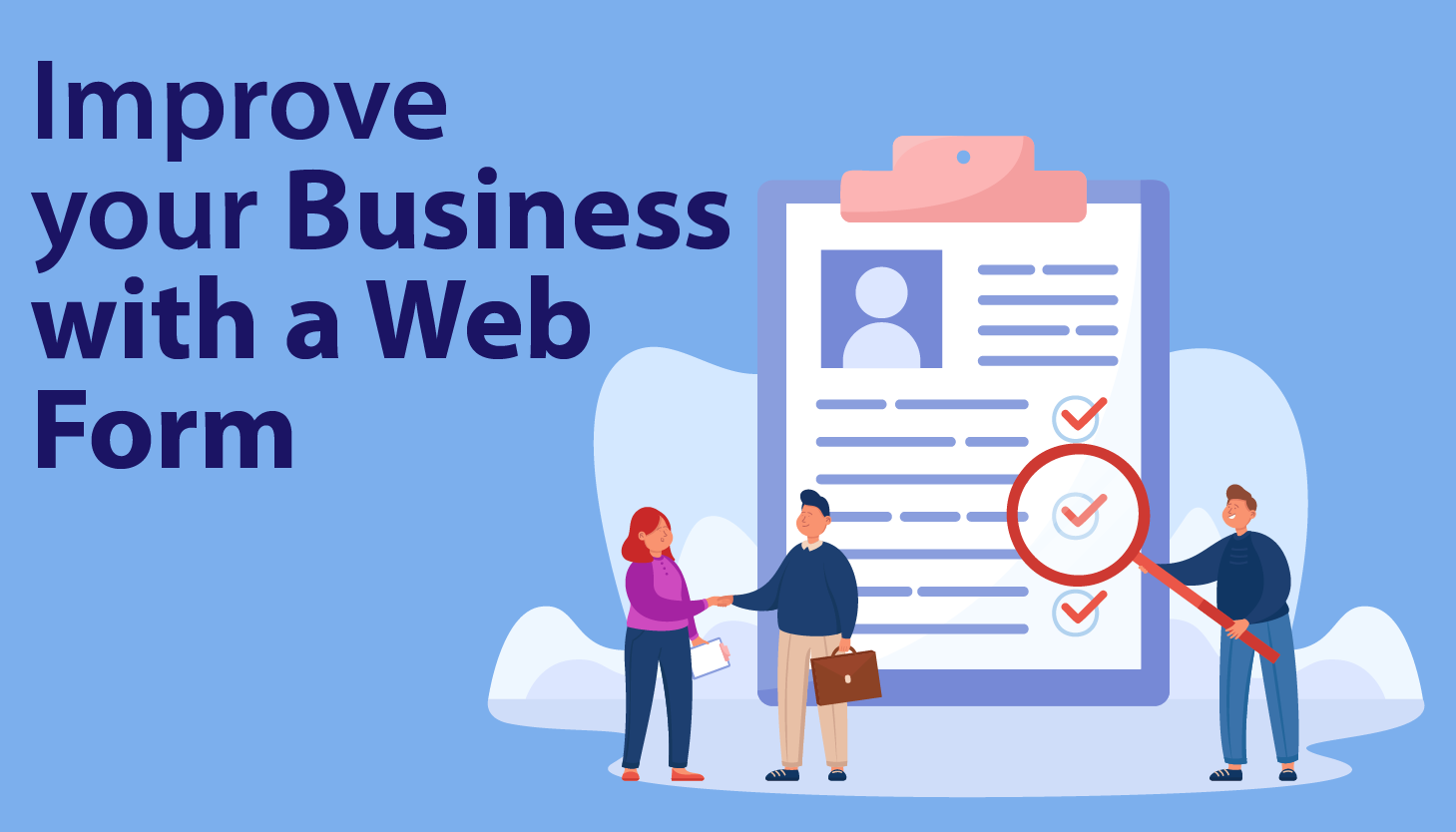 Every business owner desires a business that operates into perpetuity. Your customers will determine whether your business will last. Of course, you must have heard the cliche "customer is king" thrown around a lot. If you want to improve your performance, you must find a way to make this cliché reality in your business. Your customers are everything to your business. You must know what they want, how they want it, what is currently trending, and what they perceive your business and offerings. One way to do this is to use a web form.
Without web forms, marketers would have difficulty tracking purchase data, obtaining customer information, and generating feedback and survey responses. In this fully digitized business world, you must have at least one web form on your website.
What is a Web Form? What are the Types?
A web or HTML form is an interactive online page that serves as a document or form for interacting with your customers. The form combines various elements like checkboxes, textboxes, etc. For example, a web form prompts a visitor to subscribe to a company's newsletter by entering their email address and other information they wish to collect. After filling out the form, the information is sent to a server for processing.
A webform is where users enter personal information or data sent to a server for processing. They vary in format, length, appearance, and content type. In other words, there is no one size fit with web forms. You need to create it to fit your business needs and gather the information you need.
Web forms aid information collection and management. Since they are embedded into your website, it is easy for potential customers to provide their information. Once a lead completes a web form, it is stored and analyzed to get crucial information.
Some common types of web forms are:
Contact Form
This type of form is used so that leads can ask questions or voice their complaint. It usually contains fields requesting names, order numbers, contact information, etc.
Survey Form
Survey forms are used to source feedback or learn about customer experience with your product and services. This way, you can improve customer experience and engage your lead on how your business can help them.
Order Form
order forms allow site visitors to place orders and provide a way for customers to pay for the products they have ordered. As a result, it includes multiple steps and details like entering billing information, credit card information, contact information, etc.
Lead Generation Form
This type of form requires personal information like passwords, usernames, email addresses, and phone numbers for converting website visitors into leads.
Registration Form
A lead will complete this form to show interest in your services. For example, if you run an e-commerce business, vendors must complete the registration form before they can post items on your website.
So, the popular uses of web forms include:
Data collection
Product and service evaluation
Product sale
Offer feedback and visitor comments
Information gathering
Conversation starters
Do you now see how a web form can make your customers feel like kings? Because it is the only way to get input from old and prospective clients. A webform is all about improving the user experience.
Reasons Why you Should Use a Web Form
1. Lead Generation
A lead is any entity that shows interest in your business offerings. Although there are different ways to generate them, a web form is still one of the easiest. For a research study, do you need data on potential customers or site visitors? You can use a web form. When people visit your website, you can customize a web form in any way you want to gather specific information.
You can create a contact form to receive questions from visitors or a request form to gather information. Just as users are sending a message to you, you are building your email list by the side. A webform helps you ask the right question, and you can integrate it with other smart marketing tools. You can even offer downloadable resources to attract people to fill out your forms without pressure or payment.
2. Easy Data Collection
Another way to use web form is as a data collection tool. There are different types of web forms, as we explained above. With the right form settings, you can customize any of these forms to reflect the information you need about clients or potential customers. For example, if you want to know which social media your site users frequent, you need to create a web form and ask them to fill it out. The entire process is simple and won't cost you anything.
3. Selling Products and Services
A form tool with payment integrations will aid in selling products and services online. Once you set up your account with a payment gateway, customers can easily fill in their billing details and account information on your website. Collecting feedback
You can use a single web form to collect information from your employee and feedback from the larger community around your brand. You can create surveys and polls that users can interact with for multiple purposes. For example, a customer satisfaction survey will help you know how efficient your service is. Since you can't ask each customer how they feel about your business in person, you may as well just create a form that they can fill within 30 seconds and submit.
How to Create a Better Web Form on Forms.io?
Forms.io is a form builder software you can use to create unlimited responsive forms using advanced theming and visual builders. With this simple tool, you can create your forms, set up email notifications, share reports, and track your form's performance. You can use it to request signatures, collect payments, capture videos, and integrate it with your CRM.
The online form builder uses a simple drag-and-drop editor that allows you to build forms and add grids and blocks without coding experience. Various form templates are available if you don't want to build from scratch. The platform also provides source codes to allow you to host the files on your server.
Here are Some Tips for Creating Web Forms
Inform your Visitors: Adequate information will improve the user experience on your website. Therefore, educate your visitors about what they should know when filling out your web form, especially the primary reason for filling the web form. This shows trust and prevents feelings of frustration.
Use Clear Headers: Clear and straightforward headers will help your leads know what you want them to say. For example, "First name or surname" instead of just "name." Do your best to ensure that visitors spend the least possible time on your form.

Assist your Visitors: If you are using fields that are not common or self-explanatory, offer some information. You can add subtle texts to help them better understand the process.

Try Different Languages: If your company seeks an international audience, consider other languages for your form. This applies to form labels, error messages, and verifications.

Keep Things Simple: Ask only relevant questions and arrange your form fields in a simple and logical way. If you can, show them examples of what you want, and offer likely default values.

Help Them Make Corrections: Create an error message to give direct feedback so users can make instant corrections. Also, put spacing between the fields so users can easily track error messages to the respective form field. More importantly, be specific about your error messages, and always save correct data so that it is not lost if the user needs to go back to make corrections.

Template: Use an aesthetically pleasing template that suits your preference or business. Questions: keep your questions short and to the point, and use conditional logic features on critical questions.

Payment: Use only safe payment gateways for collecting payments, and don't share your customer's payment information with a third party.

Feedback: Highlight mandatory fields to prevent frustration. For example, use the color "green" for correct answers or "red" for errors or incomplete data. You should also add feedback after the user has submitted the form.
Conclusion
A webform is a perfect tool for lead generation, networking, referrals, and interacting with current, previous, and future customers. Click here to add this automation tool to your business and streamline your effort to get more results.
#1
Create custom forms from scratch with drag and drop builder
#2
Simplify the form-filling process for any user with conditional wizards
#3
Use pre-built teemplates to create forms faster
#4
Integrate forms into websites with securely
#5
Capture and forward responses seamlessly
#6
Automate advanced workflows using built-in business process management software, BPMApp
#7
Filter and export responses to CRM tools for sales lead qualification
#8
Collect payments securely using Stripe, Paypal and other payment providers
#9
Unbelievable pricing - the lowest you will ever find
#10
Everything your business needs - 50 apps, 24/5 support and 99.95% uptime
Join the SaaS Revolution
All-in-One Suite of 50 apps

Unbelievable pricing - $14.99/user

24/5 Chat, Phone and Email Support