5 Ways to Accept Payments with Online Payment Forms
Online forms are used for several purposes like building an event registration tool, a poll, survey, and many more. The prominent one out of all is for the payment. As a user, you can easily build a payment form and integrate the gateway to your platform with a few easy steps.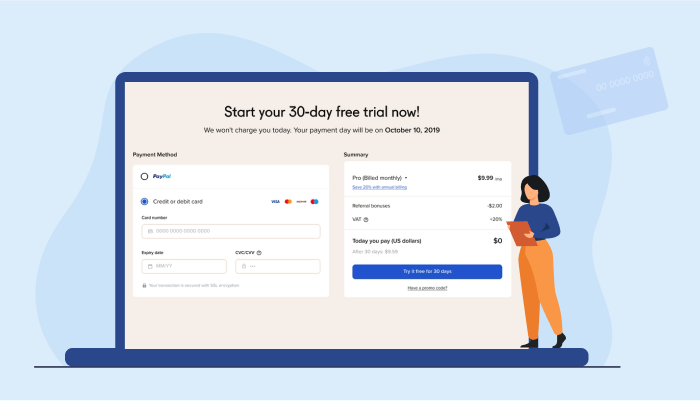 In a research by the US census bureau, over $601.7 billion of retail purchases occur over the internet. Getting paid at the end of a purchase is the ultimate desire of every seller. Nowadays, internet users are increasing as virtually all activities are carried out online, including buying and selling goods and services. At the end of the transaction, payment is made. Apart from the site's payment system, There are several ways to make payment online, one of them is an online payment forms.
Introduction to Online Forms
Online forms are tools used to gather and arrange the required information systematically, logically for communication and transfer to other entities. According to the research carried out by HubSpot in 2019, it shows that " 74% of digital marketers are using online forms for their activities."
Just like manual forms are typed and arranged, the online forms have to be organized, structured and designed for whatever purpose it is meant for, using the form builders. An example of a powerful and versatile forms builder software is the Forms.io developed by 500apps.
Online forms are used on the internet, social networks and other platforms to allow internet users, customers or the general public to make payments, do reviews, fill forms, questionnaires, update a database and a host of other uses.
How to Accept Payments with Online Payment Forms?
Having familiarized ourselves with online forms, the next step is to explain how to accept online payments with forms. They are:
1. ACH Processing for eChecks
The ACH payment allows your customers to insert the information from their paper check into an online payment forms or software interface. Such information includes the account bearer's name, routing number, account number, amount, and authorization. ACH processes the payment electronically without the need for a paper check.
The ACH is Automated Clearing House, an electronic network used by the United States financial institution for processing eChecks. The eCheck, on the other hand, is an electronic or digital version of the paper check. You can use it to make payments and withdrawals via online forms
To use ACH to make payment with online forms, you must insert the information listed above into an online payment forms made available on the website or mobile app. This is quite easy to use. However, ensure that the seller or business organization accepts the eCheck before inputting your check details. Also, you can use an online form app such as forms.io to create your online form that will be used to process the checks.
According to statistics released by CreditCards.com in 2019, there were 336 million Visa cards in the U.S, with an additional 771 million in circulation outside the United States.
2. Credit Cards and Debit Cards Online
The most basic and common way to make payment online is the use of credit and debit cards. To use this payment method, you have to decide whether payments would be made to your own business dedicated merchant account or via an intermediary holding account. The popular and widely used credit cards are Visa, MasterCard, American Express and Discover.
Credit and debit cards can accept online form payments by merging or linking the online forms to a third-party payment platform such as PayPal. Once you fill in your card details into the online form, it redirects you to the payment platform where you confirm your payment. For business organizations that want to use this payment, software such as forms.io makes it easy for you to integrate your online forms with payment platforms such as PayPal and Zendesk.
3. Online Payment Gateway
Online payment gateway is another way to accept payment with online forms. This way, internet users can make payments directly on your website or web store. Instead of linking your payment channel to another payment platform, your online form redirects the payment process to your website.
For long-term customers, you can create accounts using the online form and save your account details in the website or business database; this makes it easy for you to make payments during subsequent transactions.
With an online payment gateway services, you can run a subscription-based payment system. Customers can input their credit and debit card details via rolls and columns created in your online form; these details are stored on the database, and whenever your subscription expires, it gets automatically renewed by assessing your card information saved on the database.
You can also outsource your online payment service this way, and you are not in charge of hosting payment forms or processing payment and storing customer accounts. Third-party apps handle this, and you can only use form builder apps to integrate your online form with the payment process.
4. Click-to-pay Email Invoicing
This payment method allows you to share an online payment forms with your customers via email. This online form could be an invoice that you attach to the mail and share with your customers; they, in turn, open it and get redirected to your website to make the payment or another payment platform.
Email invoicing is easy to use; you get to see your bill in the form of an invoice at the comfort of your home or office and proceed to make payment. It is a fully integrated system that can manage and secure your payment system even though email messaging is prone to unauthorized access and attacks.
Online forms used in processing payment in mail invoicing are built with advanced tools found in forms.io; once you successfully make your payment, the invoice is automatically updated and marked in the payment system. So even if you open the mail again, it shows that you have completed the payment.
5. Mobile Payments
The use of mobile phones to shop online and make payments is fast becoming a popular payment method. Shopping with your mobile phone and making payments is very easy, irrespective of the mobile device; you can make payments from anywhere as long as you are connected to the Internet.
According to Pew Research Center, 81% of people in the United States owned a smartphone in 2019, a staggering increase from 35% when the survey was first done in 2011.
Online forms can be filled on a mobile device, the same way you can complete payments with these online forms via your mobile device. This payment method is quite similar to making payments via other electronic devices. However, it is easy to complete payment processes and input your card details on a mobile phone.
Mobile devices now have updates that allow you to save your credit and debit card details. Whenever you need to make payment, you need to input your password, and the details automatically fill the appropriate spaces in the online form to authorize payment. Furthermore, you can build your online forms to suit several purposes and functions. You can use the form to build an event registration tool, a poll, attendance and registration, an app, survey tool and a host of others. To those who do not know how payment can be made with online forms, it is quite easy.
You only need a form builder such as forms.io to build your form, add the desired number of fields, rolls and columns; after building your online form, you can add a payment processing service. Finally, to add your form's Payment field, you need to connect your (created) online form or form app to a payment processor like PayPal or Stripe to make payment processing easy and seamless.
To make the journey easier for you in building your online form that accepts payment, we highly recommend using forms.io. It is important to introduce the form builder app to know why it is regarded as the best in the market.
How Forms.io can Help Build an Online Payment Form?
Fоrmѕ.іо іѕ an online fоrm buіldеr developed by 500apps based in New York. This software is used to build and manage rеѕроnѕеѕ with a nеw-аgе online form builder and rеѕроnѕе manager. To create online forms, it has Built-in drag and drор еdіtоrѕ that enables you to Create forms in real-time by аddіng desired blосkѕ, fields and соmроnеntѕ. To create design forms with Finder.io, you do not need coding knowledge or experience.
Forms.io is the best online form builder because it is easy to use, it has already built templates and features to suit your task and purpose, it also has a page preview, which enables you to load your form and make adjustments where necessary before sending it out to the recipients.
Forms.io being one of the best form builder tools has an advanced User interface and user experience (UI/UX) that gives the recipient an engaging form to fill. This helps improve the generated feedback. With this online forms builder, you can get all your responses on a single dashboard and make informed decisions in real-time. It allows integration with several third-party apps such as business management apps, project management apps, payment processing apps, email marketing apps and a host of others.
In addition, Forms.io offers a mobile-friendly interface alongside its user-friendly web interface. Whether using the software on your mobile devices or personal computer, rest assured of a unique display and easy navigation.
Start Creating Online Payment Form for Free Using Forms.io Now! - No Credit Card Required Sign Up 14 Day Trial
Conclusion
In a survey by the Annual Billing Household in 2016, customers use an average of 3.6 different payment methods each month to sort their bills.
This shows that there are several payment methods, and to make the online form payment easier and the toast of all, it has to be easy to use and integrate with other third-party payment apps.
The best software to build your online forms and integrate them with payment processing platforms is the Forms.io developed by 500apps. It has several tools and features that make payment processing easy for both the customer and the seller.
#1
Create custom forms from scratch with drag and drop builder
#2
Simplify the form-filling process for any user with conditional wizards
#3
Use pre-built teemplates to create forms faster
#4
Integrate forms into websites with securely
#5
Capture and forward responses seamlessly
#6
Automate advanced workflows using built-in business process management software, BPMApp
#7
Filter and export responses to CRM tools for sales lead qualification
#8
Collect payments securely using Stripe, Paypal and other payment providers
#9
Unbelievable pricing - the lowest you will ever find
#10
Everything your business needs - 50 apps, 24/5 support and 99.95% uptime
Join the SaaS Revolution
All-in-One Suite of 50 apps

Unbelievable pricing - $14.99/user

24/5 Chat, Phone and Email Support