Create Online Surveys With a Free Survey Maker
Online surveys are a great marketing tool that can be used to gather customer feedback, find out about the needs and wants of the target market, and generate leads. In the case of online surveys, you don't even need to build an e-commerce site or install sales funnels—all it takes is a good set of free survey maker tools.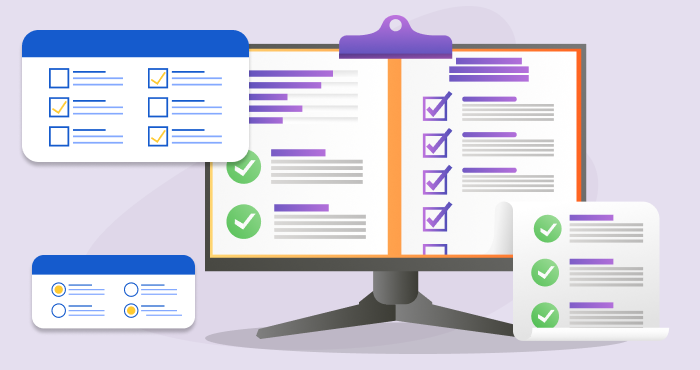 There are many free survey maker tools and websites that you can use to create survey forms. However, some of these free survey maker tools will provide you with great features while making it quite easy to administer surveys, while others may lack some of the features that make them stand out from the rest. If you are an eCommerce business owner, marketer, or salesperson and want to gather customer feedback, there's no better way than to use surveys. There are several tools that allow you to create surveys with ease and leverage them across multiple channels.
List of 5 Free Survey Maker Tools
1. Forms.io
Forms.io is a free survey maker for customizing business forms. With our integrated apps, you can quickly create custom forms, post them online, receive immediate alerts and responses, and collect payments. Online forms that don't need any code can power your data collection.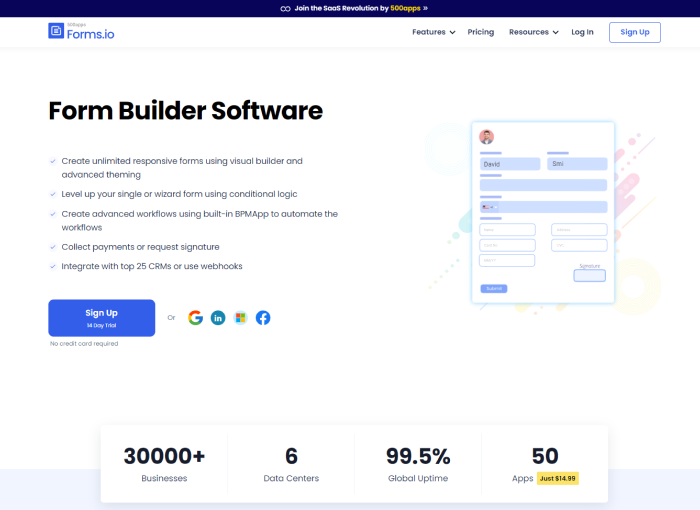 With the help of the visual builder and advanced theming, you can create endless responsive forms.
Utilize conditional logic to advance your single or wizard form
To automate the workflows, create sophisticated workflows using the built-in BPMApp
Collect money or ask for signatures
Use webhooks or integrate with the top 25 CRMs
Forms.io Key Features Include:-
Drag-and-drop Form Builder: Drag the components and fields you want to include into your form. Start gathering the necessary data.
Customizable Built-in Templates: Using our form maker, choose from one of the pre-built templates and modify it to suit your company's requirements.
Integrated Payment Networks: Using payment processing software that ensures the security and safety of transaction data, it collects payments from customers.
Ready to start creating forms using form builder software? Sign Up 14 Day Trial
2. Google Forms
Google Forms is a free online survey tool that allows you to create surveys, polls, and questionnaires. You can use it to collect information from multiple users at once, and it's especially useful for collecting data when you're working with a small team or if you want to use the same survey on different sites.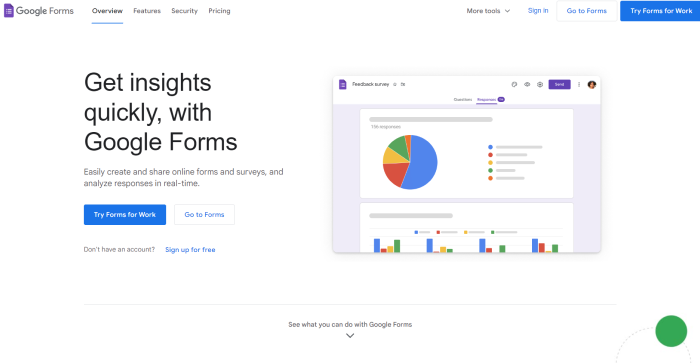 The process of creating a form in google survey maker is pretty straightforward:
Click on "New Form" from the form menu in your Google Sheets dashboard.

Name your form and set its description.

Add some questions to ask your respondents using the form builder tool. You'll need to fill in their answers with the answers next to each question before submitting your form!

Once you've added all of the questions you'd like to ask, select "Save" from the top-right corner of the screen and then click "Submit."

Congratulations! You just completed your first survey!
3. SurveyMonkey
SurveyMonkey is an online survey platform that makes it easy to collect data, analyze results, and share your findings. It's easy to get started: just create an account and start taking surveys! SurveyMonkey is a survey tool that has recently entered the scene, and it's quickly becoming one of the most popular methods for conducting online surveys. Here are some of the reasons why: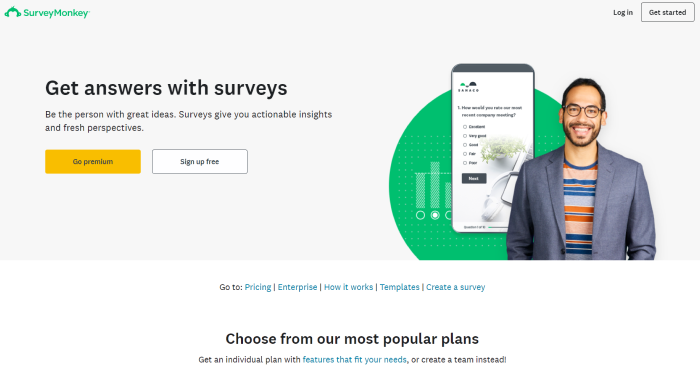 It's easy to use
It lets you create multiple surveys at once and assign them to different groups of people
You can make your survey anonymous or trackable, so you can see exactly how many people have completed it and where they're from
You can set up reminders so that people respond to your survey when they're most likely to do so
4. Microsoft Forms
Using Microsoft forms for online surveys can be a great way to get the information you need. The best part is that your data will be automatically stored in the cloud so that you can access it anywhere. You also don't have to worry about printing or sending out questionnaires, because all of your responses are stored in the cloud.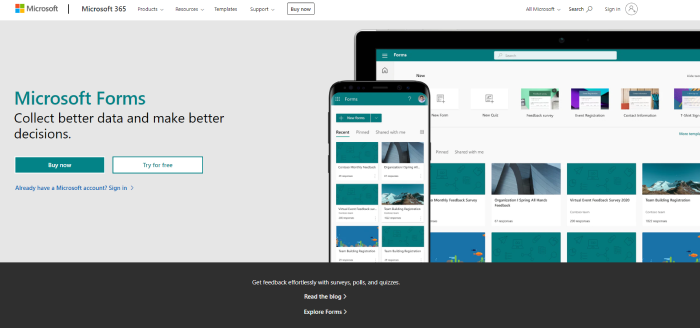 Microsoft forms have many features that make them an excellent choice for free survey creator tools, including:
Ability to customize questions and answers
Integration with other Microsoft products, such as Word or Excel
Option to advanced users who want more control over their data
5. HubSpot
HubSpot is a comprehensive CRM that enables users to design surveys and sync them with their full customer database. The HubSpot form builder, a drag-and-drop builder to create standalone, pop-up, embedded, and other online forms and surveys to collect and save contact information and client feedback, is accessible to users as part of their free marketing tools.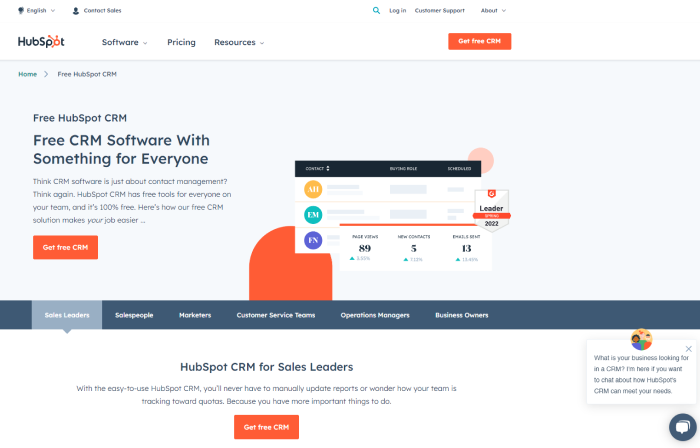 You can start creating custom forms for them, or you can start with a template. You get access to forms, email, prospect monitoring, live customer support chat, and even a meeting organizer using HubSpot's free CRM features. You can access a variety of business operating tools with HubSpot in addition to forms.
6. Type Form
Typeform is a free survey maker that allows you to create surveys and quizzes, collect data, and analyze your results.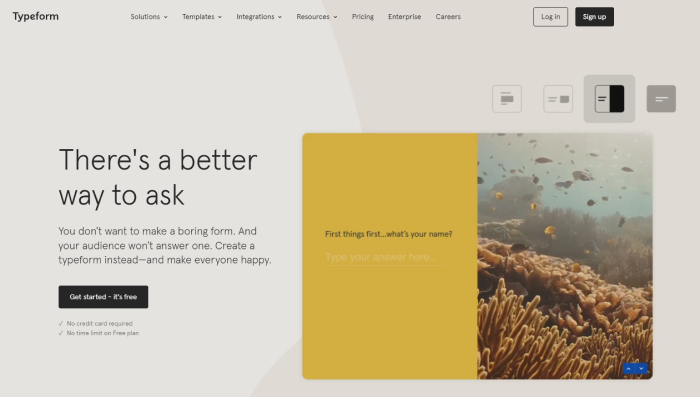 Typeform is an online form builder that lets you create beautiful, mobile-ready forms. You can use it to collect data from your website visitors or to create a simple survey for your friends. Typeform offers you a lot of flexibility in terms of what questions you want to ask, which fields the user needs to fill in, how the form looks and feels like, and much more.
7. JotForm
You can start creating custom forms for them, or you can start with a template. You get access to forms, email, prospect monitoring, live customer support chat, and even a meeting organizer using HubSpot's free CRM features. You can access a variety of business operating tools with HubSpot in addition to forms.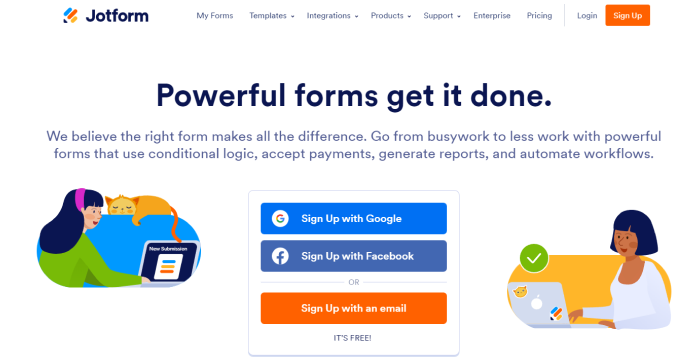 The limitations of the free plan are made up for by the template overdose. You can have 100 submissions per month (with a total storage limit of 500), 1,000 views per month (per form), and 10 payments per form on Jotform. Additionally, there are 5-form and 100-question limits. You must frequently export your results and then erase them from the platform to take advantage of this free plan. For that reason, I was on the fence about including JotForm, but the templates made me change my mind.
8. Zoho Survey
A simple online free survey maker and quiz creation tool is Zoho Survey. It is a very user-friendly tool with a wide range of capabilities. If your requirements are simple, it operates without a hitch. Simply put, the tool can't handle complex needs.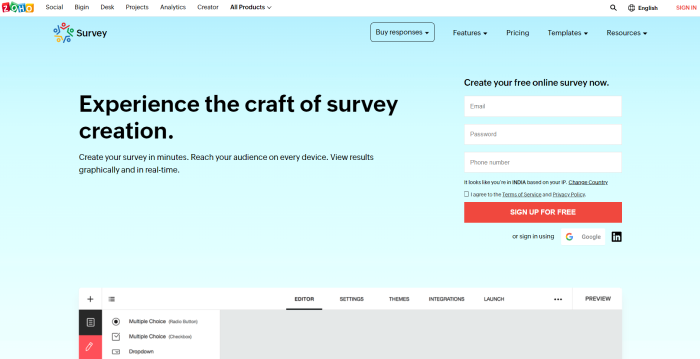 There are many templates available in this online free survey maker, but there are few ways to customize them. The standard version, which is not the best available, must be purchased once you outgrow the free version.
Summing It Up
There are many free survey maker tools available on the market. Some of them are free for personal use, while others are free for commercial use. The best thing about these free survey maker tools is that they can be customized according to the needs of the user. They also provide a wide range of features like question types, data export options, and much more.
#1
Create custom forms from scratch with drag and drop builder
#2
Simplify the form-filling process for any user with conditional wizards
#3
Use pre-built teemplates to create forms faster
#4
Integrate forms into websites with securely
#5
Capture and forward responses seamlessly
#6
Automate advanced workflows using built-in business process management software, BPMApp
#7
Filter and export responses to CRM tools for sales lead qualification
#8
Collect payments securely using Stripe, Paypal and other payment providers
#9
Unbelievable pricing - the lowest you will ever find
#10
Everything your business needs - 50 apps, 24/5 support and 99.95% uptime
Join the SaaS Revolution
All-in-One Suite of 50 apps

Unbelievable pricing - $14.99/user

24/5 Chat, Phone and Email Support