10 Best Form Builder Tools for Your Business
Discover the 10 latest and best online form builders to create appealing and engaging forms, surveys, questionnaires and so much more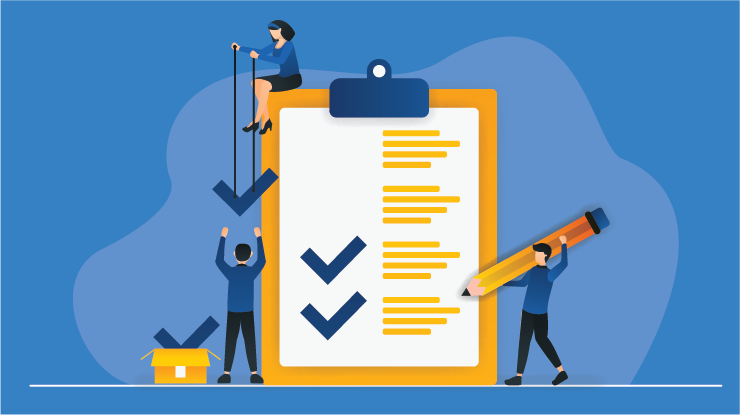 For years, online forms have been the go-to tool for businesses and marketers worldwide seeking ways to generate more leads or acquire first-hand user experience from their customers.
Like Jodie Shaw Chief Marketing Officer, The Alternative Board, rightly said, companies should Always begin with 'So that I can better serve you, do you mind if I ask a few questions?
So, you've probably seen many of these forms on numerous websites, from survey forms to newsletter sign-ups, sales contact forms, and event registration. Online form builders offer unique and easy tools to help you learn more about your target audience or conduct market research for a brand. With the constantly growing demand for the service, there are now tons of online form builder software suitable for diverse users. However, picking the right builder tool with the appropriate design and structural features for your business can be incredibly instrumental to achieving optimum value for your intended task.
This article shares the 10 best form builders for years, online forms have been the go-to tool for businesses and marketers worldwide seeking ways to generate more leads or acquire first-hand user experience from their customers.
lder tools for 2022, their key features, and pricing. But first, let's discuss what a form builder is precisely and the various steps to consider when building an online form.
A form builder is a tool designed to help you collect user information and data via online forms. Most online forms aim to become the perfect lead generator machine for businesses by providing them with actionable data in a logical and meaningful manner. Whether you're looking to improve conversion rates, assess customer feedback, or record service information, there is an online form builder that meets your needs.
List of Best Form Builder Tools in 2022
There is a staggering amount of online form builders or form designers on the web. Here are the top ten decent form builder tools.
1. Forms.io
One of the best form builder tools, Forms.io is a builder software from 500apps that provides users with powerful and engaging payment forms that enhance customer experience like never before. Its built-in templates enable users to create forms faster and publish them a the speed of thought. Trusted by over 30,000+ paid users, forms.io gives users state-of-the-art support to build and manage captivating forms.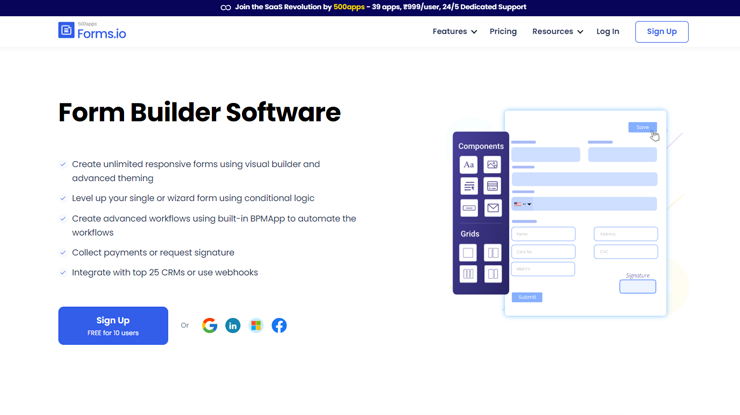 Key Features of Forms.io:
Drag and drop editor to build visually appealing forms
Form response management for better decision making
Customizable and built-in templates
No coding experience needed to create forms
Pricing
Forms.io offers a free user plan that doesn't require credit card details. The paid version includes a premium Forms.io account +39 more solutions from 500apps covering sales, marketing, support, productivity, and HR solutions, including, no feature caps, personalized onboarding, 24x5 email, chat, and phone support, all at $14.99.
2. Google Forms
Developed by Google, Google Forms is among the best form builder tools. It provide users with free and fast attributes when creating an online form. Unlike most form builders, Google forms features are entirely free (no paid subscription). It also makes real-time customization settings like date response, drop-down menu, and multiple-choice questions extremely easy.
The downside to using Google Forms is that most of its features are not editable beyond the available options programmed into the system. It is, however, effortless to use and can automatically transfer user responses into Google Sheet format.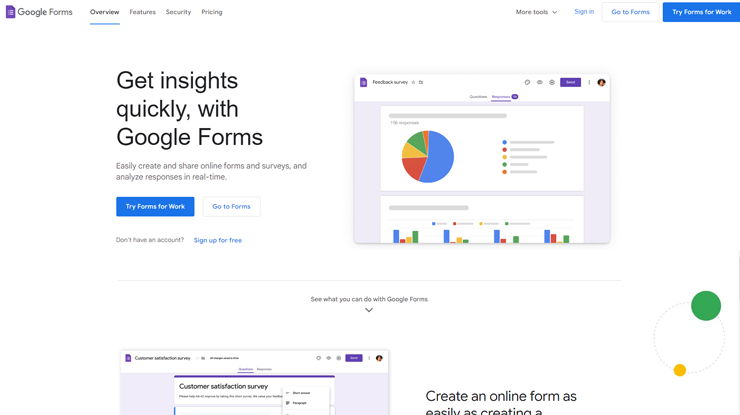 Key Features of Google Forms:
Simplifies collaboration with multiple users on a single Google Form
Easy response conversion into Google sheet
Offer conditional logic
Allows respondents to upload answer files within a questionnaire or survey
Pricing
Google Forms usage is completely free. All you need is a Google account.
3. Hubspot Online Form Builder
HubSpot online form builder or survey builder provides users with a friendly interface, robust customization option, and efficiency-centred system, all for free. The tool also allows you to collect over 800 form fields and different field types. It is one of the best form builder tools for business or sales teams because of its integration with CRM software and other marketing tools.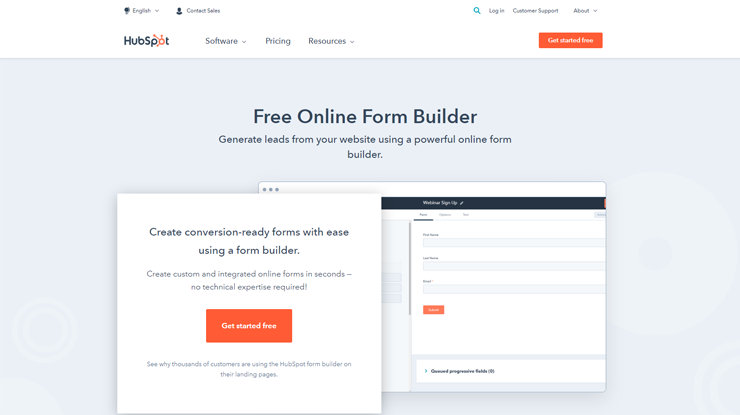 Key Features of Hubspot Form Builder:
Enriches and qualifies the data of profiles for lead scoring
Integrates user with HubSpot tools for marketing, sales management, and analysis
Directs user details from your contact form to HubSpot CRM
Pricing
Hubspot offers most of its software features for free; however, advanced options like adaptive fields and lead scoring are only available in paid plans. Professional subscription at $800 per month and Enterprise subscription at $3200 per month.
4. Gravity Form
Gravity form is a WordPress plugin that allows for seamless integration with your website back end. It simplifies form creation and focuses on helping you build engaging WordPress forms. It provides an outstanding balance between price and functionality. Gravity form is among the best form builder tools for WordPress sites that need a well-rounded and cost-effective year service.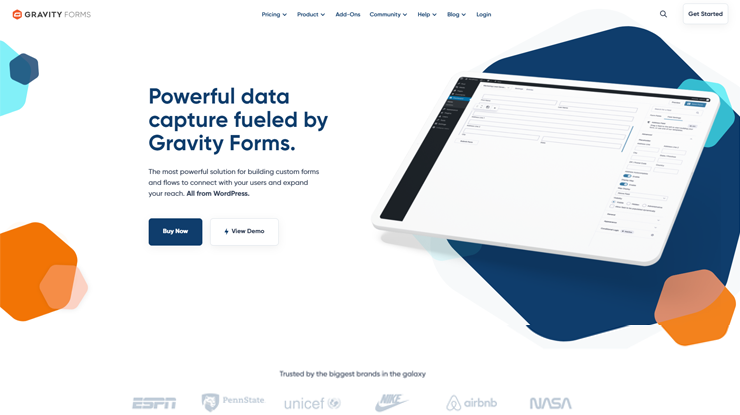 Key Features of Gravity Form:
Possesses an intuitive visual editor that simplifies form embedding on WordPress
Makes use of conditional logic for tailored forms
Integrates well with Zapier and HubSpot CRM and Zapier for easy lead management
Pricing
Gravity Form does not have a free usage option; however, you can sign-up for a demo account. The paid subscription costs $59 per year. Monthly payments are currently not available.
5. Jotform
JotForm, designed by a company in San Francisco, allows users to create online forms and surveys using the drag and drop format. Its tools are perfectly simplified so that no special technical knowledge is needed for usage. Once forms are completed forms, it is automatically emailed to their creators. It also has an option to encrypt the data.
Jotform offers over 10,000 form templates for users to choose from, and its services are available in 15+ languages. It is one of the best form builder tools for eCommerce businesses and large sites.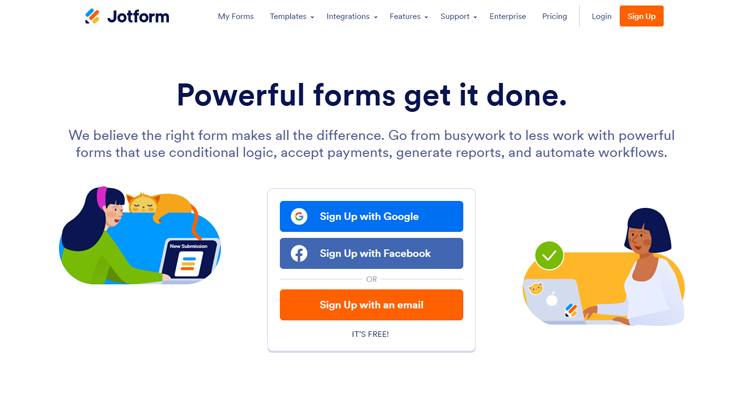 Key Features of Jotform:
It supports over 100 widgets for easy collection of digital signatures, survey creation, and order form building.
It provides a fully stocked feature design package for creative designers
Allows for payment integration with over 30 payment processors
Pricing
Jot Form has a free user package; however, it limits users to 100 forms per month and ten payment provisions. It starts at $24/month; the paid plans allow for unlimited access to all its features.
6. 123 Form Builder
With over 200 million form submissions, 123 Form builder is among the top best form builders tools available. Its ability to capture critical client data without unnecessarily inflating workload makes it one of the most popular online form builder choice among Wix site users. 123 Form builder is great for large organizations and eCommerce brands that need to automate and maximize their data.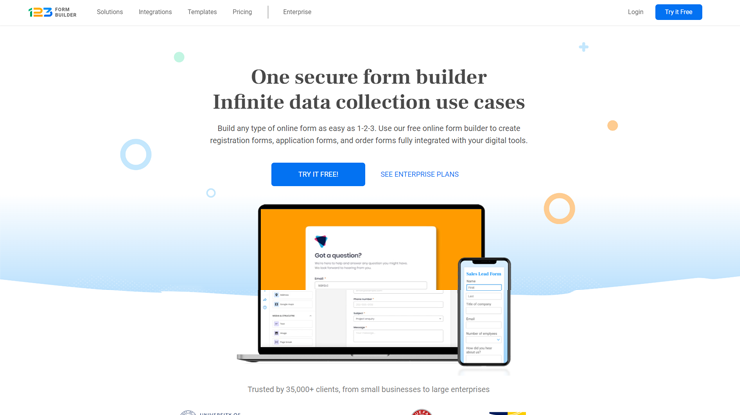 Key features of 123 Form Builder:
Boasts a responsive live chat support channel
Offer protection for online forms using Captcha, SSL, and other encryptions
Automates data collection and provides convenient graphical reports for data mining
Pricing
123 Form builder has a free user plan. Paid subscription begins at $24.99 per month.
7. Paperform
Paperform allows anyone to create beautiful and engaging user forms. Its powerful and unique editor makes customizing super easy and quick. Combined with its modern UX, Paperform is among the best form builder tools for businesses who need to create forms in minutes.
Its focus on customization allows for a wide range of form design, including conditional logic, calculation fields, custom HTML and CSS, and editable elements. Paperform supports online payments and enables easy integrations for automating workflows.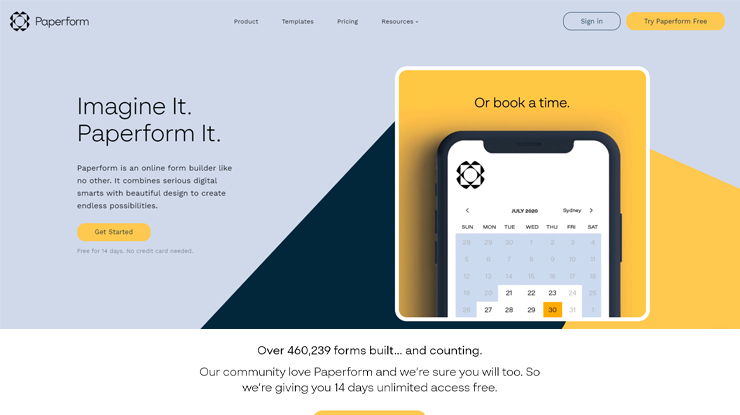 Key Features of Paperform:
Provides conditional logic features to personalize in-form content
It allows for easy form embedding and sharing.
Accepts payments from various payment gateways like Paypal, Braintree, and Stripe
Allows access for advanced form analytics
Offers control for what details users see For years, online forms have been the go-to tool for businesses and marketers worldwide seeking ways to generate more leads or acquire first-hand user experience from their customers.
Pricing
Basic features are offered at $12.50 per month. Professional plans at $32.50/month and $82.50 for Agency subscriptions.
8. Typeform
Typeform offers an intuitive and innovative approach to form design. It guides you through the creation process in batches and allows for an overall fun and interactive experience. Being among the best form builder tools, it is excellent for product research and survey, especially for service providers interested in building engaging single or multi-page forms.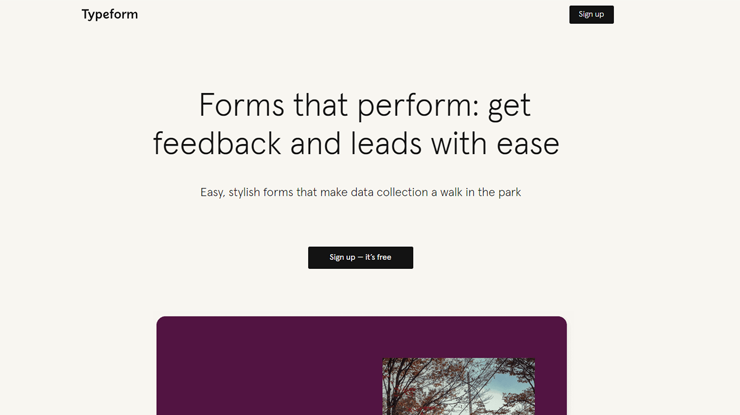 Key Features of Typeform:
Offers conditional logic feature
Supports user personalization
Allows for segmentation by channel
Supports integration with Salesforce and HubSpot
Pricing
Typeform offers a free plan with limited features. Paid plans begin at $35 per month.
9. Ninja Form
Ninja Form is among the most popular WordPress plugins for online forms. It is 100% beginner-friendly and supports advanced form building features. It is excellent for small and large business, allowing easy feature usage from tech novices to seasoned WordPress developers. Its drag-and-drop feature, editable designs, and custom styles make it an ideal form building tool.
Ninja Form is one of the best form builder tools for teams and agencies that constantly need to build complex forms that rely much on developer input.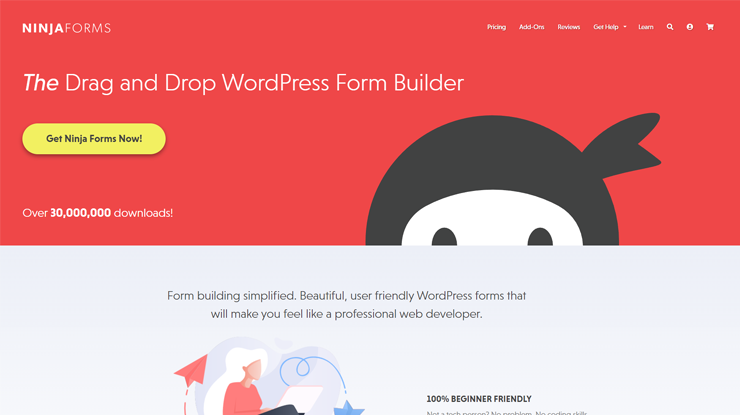 Key Features of Ninja Form:
It offers conditional logic and a different form layout.
It allows for file upload and multi-part forms.
PDF Form Submissions.
Provides excellent user management and excel export compatibility
Pricing
Subscription plans start at $99 per year for individuals and $500 a year for agencies.
10. Microsoft Forms
In 2016, Microsoft Forms offered a simple, easy-to-use form creator that integrates seamlessly with the Microsoft Office suite. Users can make appealing and engaging surveys, questionnaire, quizzes, and sales form using customization options.
The downside to Microsoft forms is that it does not integrate well with online client management software; hence, it might not be great for lead generation and conversion. However, the form builder does collect responses in real-time and can also import this data directly to a Microsoft Excel spreadsheet for quick and simple analysis.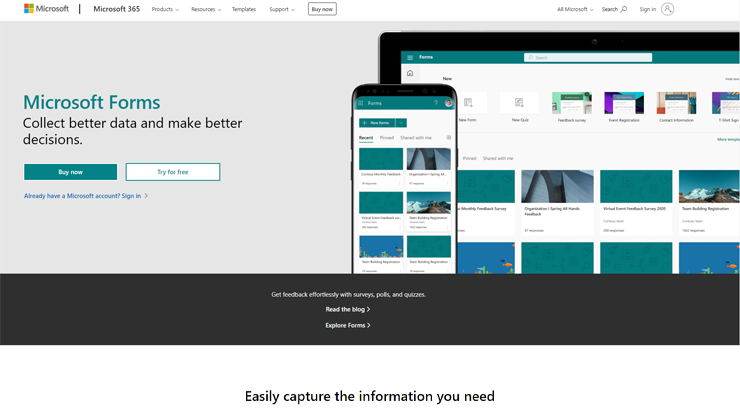 Key Features Microsoft Forms:
Mobile-friendly and responsive
Possesses a rich user interface
Offers real-time analytics to display summary details
Export form responses directly to Microsoft Excel for further analysis.
Pricing
Microsoft Forms are entirely free for anyone with a Microsoft account.
Guidelines for Creating the Ideal Online Form
Here are a few factors to consider when building online web forms that work
1. Define the Aim of the Form
Before creating an online form, you must first determine what the goal of the form will be. Survey form designs are entirely different from that service subscriptions. Therefore, it is key to the success of your plan that you first identify what type of information you want to collect from your users and then select a form template based on those conditions.
2. Insert Personal Details Field
For your marketing plan or service feedback to be effective, you need visitors' personal information like individual or organization names. Make sure to include this feature first on your form except for specific surveys where you require users to keep their anonymity.
3. Request Contact Information
Lead generation is incomplete without any follow-up by your sales or marketing team to convert potential customers to profits. However, ensure that you only request information relevant to the service you will be offering. A person signing up for a newsletter or filling a feedback form or order forms would be less likely to provide their phone number, and having this as a requirement to submit may invalidate their interest in completing the form.
4. Specify Any Additional Information You Need
Additional details like age, employment status, location, and gender will go a long way in helping you make informed decisions based on your audience profile. This information will also provide insights for your marketing team when deciding what kind of product to push into the market and to whom. Thankfully, most online form builders provide seamless integration packages that collate your form responses into a simple spreadsheet format for analysis.
5. Setup an Automated Response System
Take time to create an automatic response message sent every time a visitor fills a form. A simple "Thank you." Or "We appreciate your purchase" goes a long way in certifying your brand as customer-friendly and encouraging users to keep using your service.
Conclusion
Forms are very important for lead capture.
Forms & Flat Design. Don't screw this up. Forms are too important. They are the start of the conversion funnel. http://t.co/rkNZYHYQKE

— Michelle Berryman (@micberryman) October 16, 2013
Be persistent. Instead of designing experiments based on what you think will improve retention, let the data talk. Focus on the entire user journey, including acquisition and activation, not just the bottom of the conversion funnel.#growth #culture #success #leadership #product pic.twitter.com/OrbJZ5q2Ar

— Tom Scopazzi (@TomScopazzi) October 27, 2020
The truth is most of these best form builder tools offer very similar features and support packages. To make your decision easier, consider a product that provides you with a wide range of flexibility in terms of use as well as price. Pay close attention to user experience and overall functionality for both you and your intended users. Need a tool that offers you all of this together in one package? Then you definitely need to check out Forms.io.
#1
Create custom forms from scratch with drag and drop builder
#2
Simplify the form-filling process for any user with conditional wizards
#3
Use pre-built teemplates to create forms faster
#4
Integrate forms into websites with securely
#5
Capture and forward responses seamlessly
#6
Automate advanced workflows using built-in business process management software, BPMApp
#7
Filter and export responses to CRM tools for sales lead qualification
#8
Collect payments securely using Stripe, Paypal and other payment providers
#9
Unbelievable pricing - the lowest you will ever find
#10
Everything your business needs - 50 apps, 24/5 support and 99.95% uptime
Join the SaaS Revolution
All-in-One Suite of 50 apps

Unbelievable pricing - $14.99/user

24/5 Chat, Phone and Email Support