Best & Free Online Survey Maker Tools of 2023
Businesses want to comprehend client behavior and want opinions, and suggestions. Additionally, they must evaluate how clients feel about and respond to their goods. In this article, you will see how organizations make use of survey forms and the list of free online survey maker tools.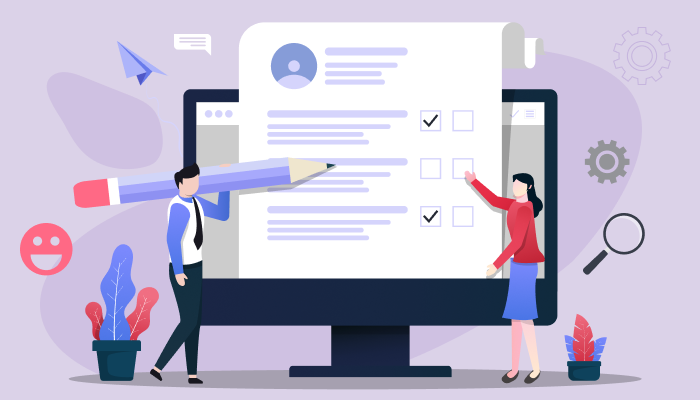 Nine out of ten businesses try to figure out how to gauge client satisfaction and experience. To gather primary data and identify chances for product development and improvement, they wish to conduct surveys.
How Organizations Use Free Online Survey Maker Tools?
A survey creator can be used to gauge the beliefs and viewpoints of a user base. As an illustration, a company would be interested in learning how many people are using its product, what they think of it, what additional features they anticipate, and whether customers are satisfied. There are countless reasons why a company could conduct a survey, but the majority of companies are aware that using survey makers makes data collection and analysis much simpler. To select the best survey tool, organizational decision-makers must be aware of the features and capabilities of the tools that are now available.
They can select a good survey creator and carry out personal surveys thanks to it. The majority of business owners, however, find it challenging to sort through the crowded market of survey tools to determine which one is the best fit.
Here Comes the List of Free Online Survey Maker Tools
1. Forms.io
Create professional, code-free forms with Forms.io's robust free online survey maker tool to gather targeted data and handle answers.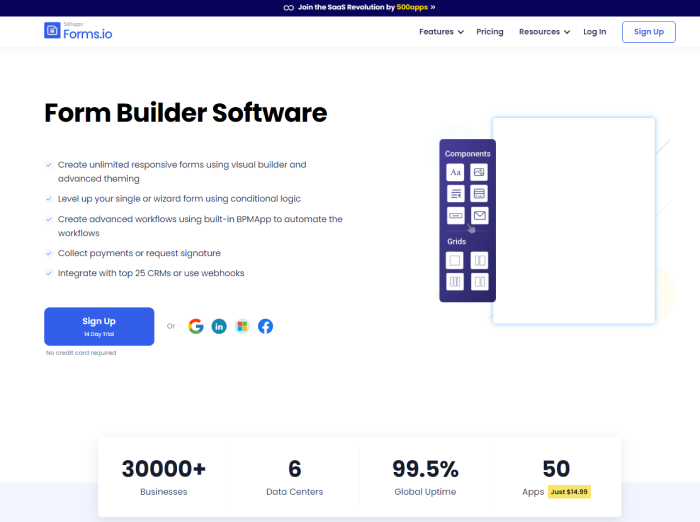 Key Features
Drag the components and fields you want to include into your form. begin gathering the necessary data.
Using our form maker, choose from one of the pre-built templates and modify it to suit your company's requirements.
Using payment processing software that ensures the security and safety of transaction data, collect payments from customers.
Utilize pre-built templates to quickly create forms. You can add or remove fields any way you like, and forms can be published instantly.
To sync contributions to your sales pipeline, just integrate your contact form with one of the CRM platforms.
Ready to start creating forms using form builder software? Sign Up 14 Day Trial
2. JotForm
A web-based free online survey maker and submission system called Jotform. It makes it simple to develop landing pages, forms, and surveys. With this free drag-and-drop survey generator, you can construct interesting online questionnaires.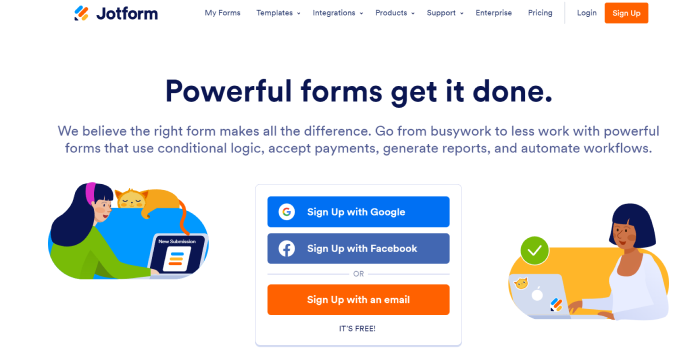 Features:
With interactive surveys that engage consumers and increase completion rates, it's simple to develop survey forms and ask relevant questions.
Enables you to put up conditional logic to give your users a more customized experience.
Viewing survey or questionnaire responses and data analysis will help you learn crucial details about your customers.
Platforms supported include iOS and Android.
3. Zoho Survey
With the help of the free online survey builder tool survey, you can easily connect with your audience. You may see the outcomes graphically and in real-time. With the use of this tool, you can easily construct 25+ different question types.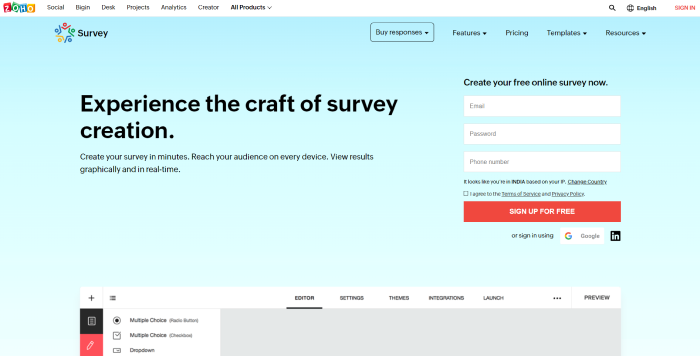 Features:
Gives you the ability to instantaneously share your surveys with others.
A personalized report is available.
Surveys are automatically mobile-optimized.
Enables you to ask participants to make adjustments to your survey.
It has a large selection of templates for marketing, human resources, and customer feedback, among other things.
4. Microsoft Forms
With the help of the web tool Microsoft Forms, a free online survey maker tool you can easily create surveys, tests, and polls and view the results. With extensive forms, it automates and streamlines business processes.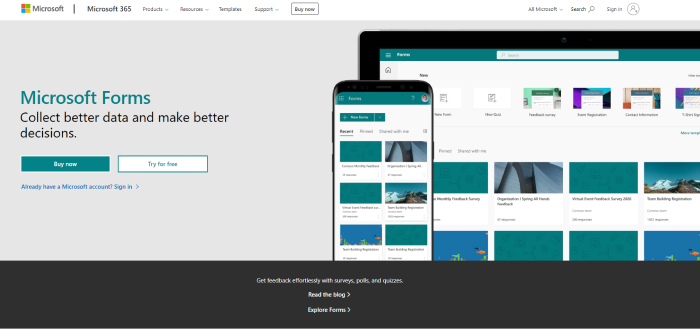 Features:
One of the greatest survey programmes that are compatible with every browser is this one.
There are numerous themes available for Microsoft Forms.
For the automatic grading of students, you can assign points.
You can get responses in real-time with this application.
To visualize data, it automatically displays results in charts.
5. Type Form
A free online survey maker like Typeform makes it simple to gather and share data. This tool allows you to construct online surveys without any technological expertise.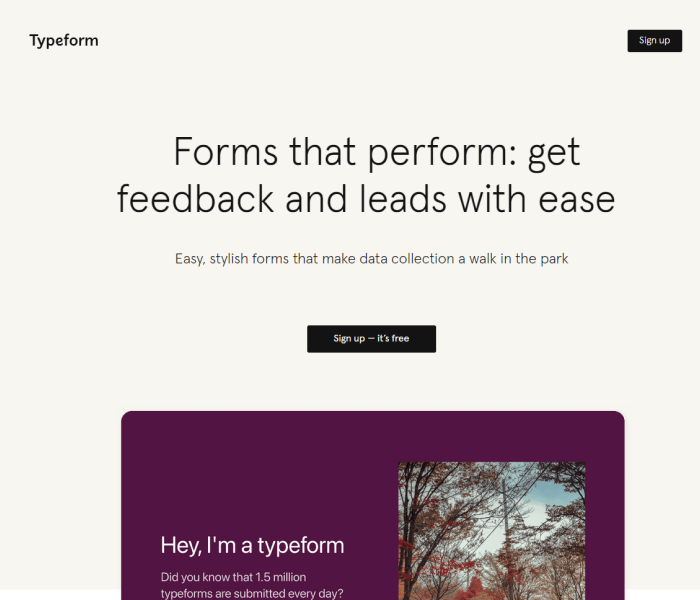 Features:
On any platform, including a computer, tablet, or smartphone, you can use it to create a free survey.
One of the many simple survey design possibilities available in this free survey tool.
You can sell a good or service while making a contact form, quiz, or survey.
This internet tool offers an interesting employee feedback form.
You can design a unique inquiry path with it.
One of the free platforms for online surveys that users can combine with services like Trello, Slack, Autopilot, and more.
6. 123FormBuilder
Without writing a single line of code, any business may construct a variety of web forms with the 123FormBuilder program, a free online survey maker. It supports internal workflow optimization and data collection.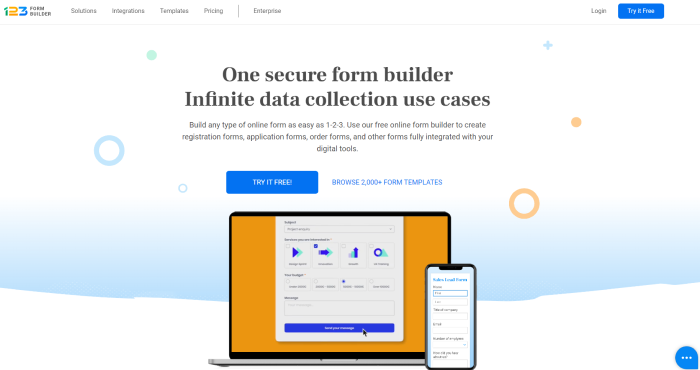 Features:
Online forms can be efficiently created in real-time.
One of the greatest survey tools, it offers graphical results so you can see the data you collect precisely.
HTML forms with password protection are possible.
You can link your web forms to other internet businesses using it.
Receiving payment is possible by integrating the tool with payment processors.
7. SurveyMonkey
A cloud-based survey tool called SurveyMonkey, a free online survey maker enables you to record the voices and viewpoints of people. It is among the greatest tools for online surveys that you may use to evaluate data without exporting it to a particular file.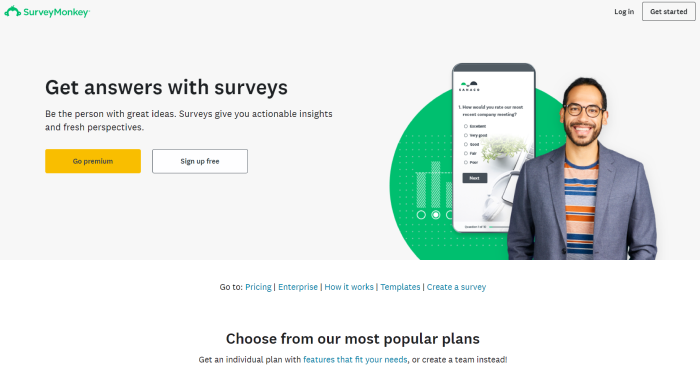 Features:
Credit card payments are accepted in surveys created with this free survey creator tool.
One of the free survey options it offers is automated email reminders.
Without a WiFi connection, it is one of the free online survey platforms that gather survey replies.
You may create a report from survey results using SurveyMonkey.
It allows for the adjustment of chart color.
You can exclude specific data.
Data analysis without exporting.
8. Google Forms
With the help of a quiz or survey, you can gather data using the free survey maker Google Forms, an online tool. A Google survey maker is automatically updated with the data provided via forms.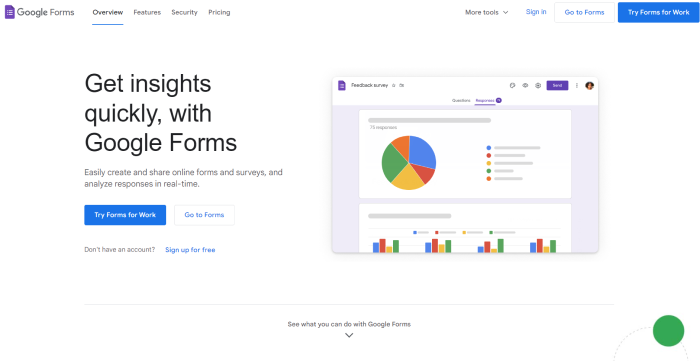 Features:
The proper colors will be chosen by Forms to complete the form after the user uploads a photo or logo.
One of the greatest survey tools, it offers a wide range of question alternatives.
It is a free survey creator that offers graphs and statistics about real-time response times.
Users may easily manage event registration, create free surveys, and gather email addresses for newsletters.
9. Zonka
Zonka Feedback offers a comprehensive and flexible online survey maker tool that can be used by businesses of all sizes and industries to collect and analyze feedback from their customers and employees.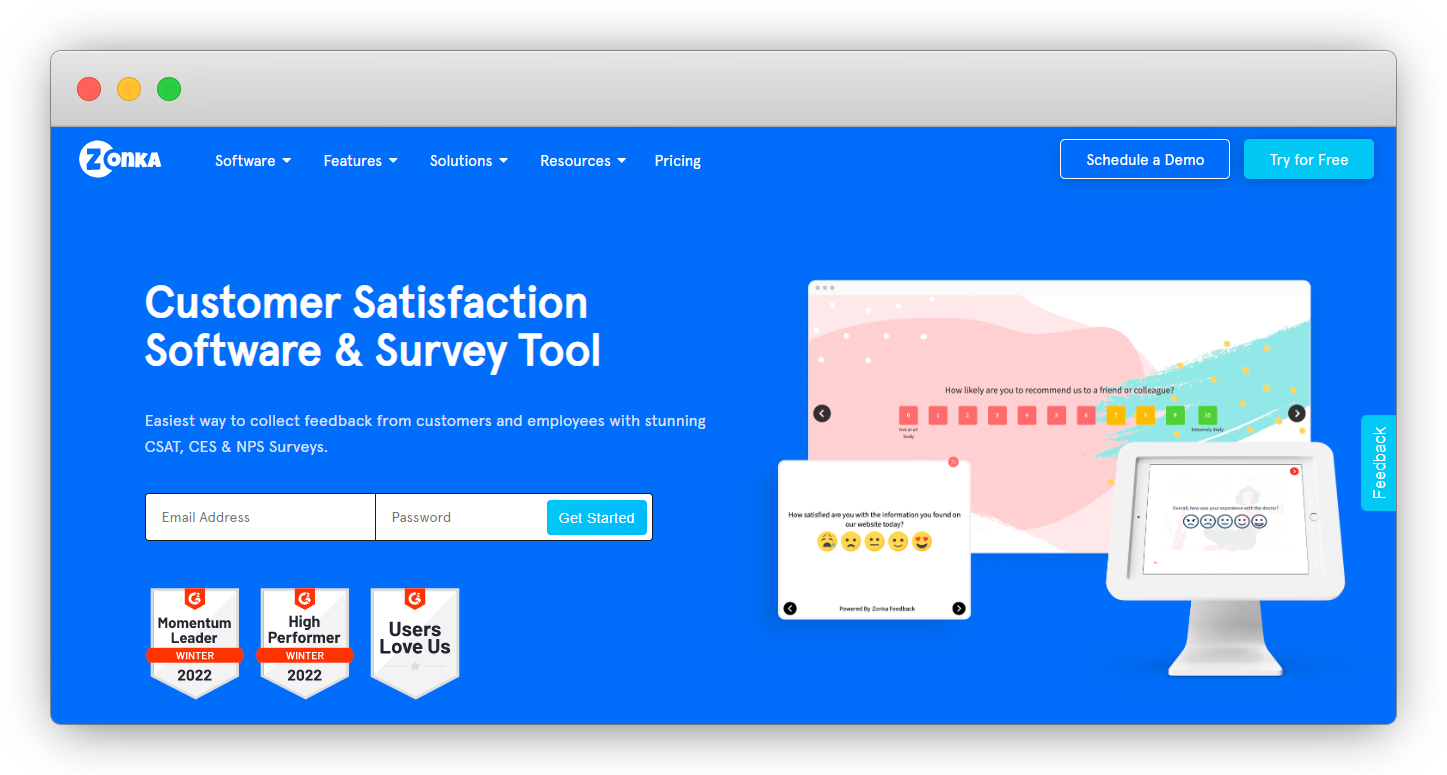 Features:
Offers various feedback collection methods, including online surveys, in-app surveys, kiosks, and offline data collection, allowing businesses to capture feedback from customers across various touchpoints.
Allows businesses to create fully customizable surveys and feedback forms with various question types, themes, and branding options.
Provides real-time feedback analysis and reporting features, allowing businesses to analyze customer sentiment, identify trends, and track performance over time.
Integrations with various third-party applications, including Salesforce, HubSpot, Zendesk, Freshdesk, Airtable, Pipedrive, Google Sheets, Zapier, and Slack, to streamline feedback management and automate workflows.
Summing It Up
Customer surveying is one component of creating a feedback system that will guide your efforts to improve the customer experience. Given that you have a method for gathering replies, you can start learning important things. And it's up to you what you do with them.
#1
Create custom forms from scratch with drag and drop builder
#2
Simplify the form-filling process for any user with conditional wizards
#3
Use pre-built teemplates to create forms faster
#4
Integrate forms into websites with securely
#5
Capture and forward responses seamlessly
#6
Automate advanced workflows using built-in business process management software, BPMApp
#7
Filter and export responses to CRM tools for sales lead qualification
#8
Collect payments securely using Stripe, Paypal and other payment providers
#9
Unbelievable pricing - the lowest you will ever find
#10
Everything your business needs - 50 apps, 24/5 support and 99.95% uptime
Join the SaaS Revolution
All-in-One Suite of 50 apps

Unbelievable pricing - $14.99/user

24/5 Chat, Phone and Email Support