8 Tips to Improve Contact Form Conversions
This article gives the 8 tips to improve contact form conversions and how forms.io can help you build contact forms.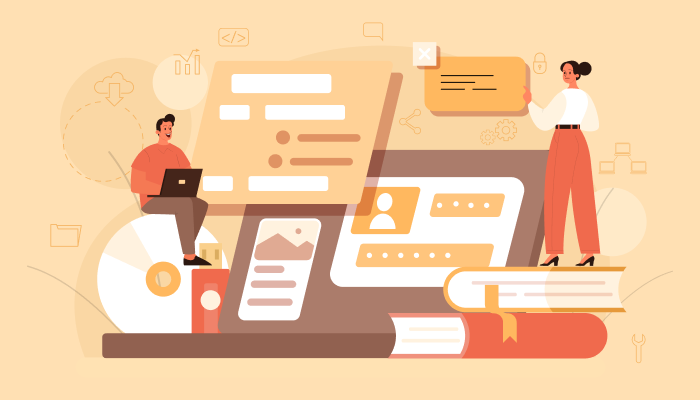 A contact form is a conversation medium between the end users and the site owners. It is a web page that allows users to get in touch with the owner by filling out empty fields like name, address, email, or remarks.
The contact form serves two purposes:
Convenience to visitors- Visitors looking out for a product or service on your website can leave a message, request a callback, or provide feedback directly. It is a quick user interaction method with just a click.

Information for lead generation- You can collect the details of your potential customers and interact with them through contact numbers/mail subscriptions.
Tips for Contact Form Conversions
Streamlining contact forms can build trust, enhance user engagement, and hike your business conversation rate. Let us look at eight researched tips to boost your contact conversions.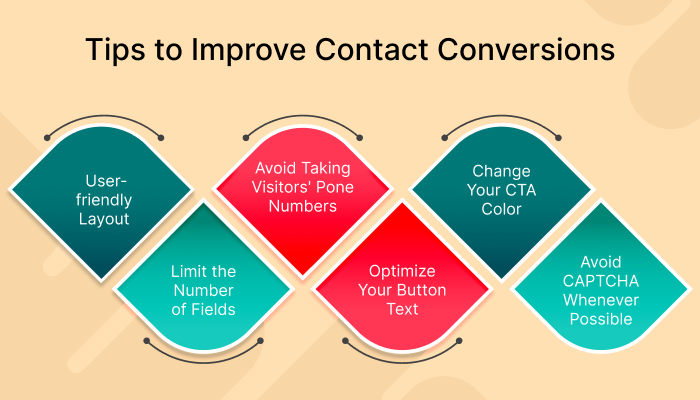 1. User-friendly Layout
A user-friendly web form can lead to quick completion rates with fewer eye movements. According to a research paper presented at the 2014 annual conference on Human factors in Computing systems, the size of the question field should match the expected answer field.
Ensure you follow the below steps to maintain user-friendliness:
Place the labels above the empty fields.
Embrace a simple layout and format for the convenience of your audience.
Use clear and readable fonts.
Use a uniform colour scheme for all the fields and make it visually appealing.
Don't split questions or have more than one question per row.
2. Limit the Number of Fields
Too many fields in a Contact form can be tiring and distracting. Users tend to navigate or ignore filling out the form. Therefore, you must decrease the number of form fields to convert anonymous visitors into leads. Form builder proves that the conversion rate is 25% for three form fields but 20% for five form fields. Ensure you limit the fields to no more than five to achieve a better conversion rate. Another study reiterated the same statistics to prove that contact conversion rate improves with a limited number of fields.
3. Design Mobile-specific And Desktop-specific Forms
A study measured the percentage of mobile device website traffic and found mobile devices accounted for 58.99% of global traffic. To drive up conversion rates, you need to design and optimize two different types of forms for mobile and desktop. Design forms for mobile first because it improves ease of use. Mobile has space constraints and smaller screens, so leverage UI elements that make form completion easier. Opt out of preciseness for the desktop version. Alter the user interface decisions based on the device and set the default field options accordingly. It is important to ensure the target audience should not scroll forever to choose a country field on smartphones.
4. Avoid Taking Visitors' Phone Numbers
Asking for a phone number is enough to develop hatred for filling out the contact form. Statistics found that the contact forms referring to telephone numbers had lower conversion rates. People don't like to share personal information, so they give fake numbers or dissuade from filling out the form. Removing the phone number field can increase the form completion rates and impact conversion rates. Personal questions intrude on the personal space and disturb the privacy of visitors. In case of dire need, give it as an optional choice. Research shows that asking for personal information like phone numbers as an option influences conversion rates and doubles the numbers from 43% to 80%.
5. Optimize Your Button Text
When 'Submit' is the default text on the submit button, the conversion rate was only 14%. Without the text, the conversion rate was 17% in a study. Text labeled as "Click here" and "go" was the top performing variants opposing "submit". All the landing pages have this button in common. Using the first person in the call-to-action button converts more than a second person. Explain what happens next after clicking the button instead of using "submit". Test various button texts and see how your visitors respond. Go by the button text that engages your target audience.
6. Change Your CTA Color
Call to Action button color affects overall page conversion as per the color test. In their study, they varied the button color but kept the contents, graphics, and message the same. They found that the red performed better than the green button by almost 21%. Marketers should use the psychology of color to create persuasive posts. Research at the University of British Columbia saw that blue color improves creativity while red color increases attention to detail. Choose a button color in form designer for the buyer's persona and brand to hit more conversion rates. Try to understand what interests your audience and devise a color-conversion strategy accordingly.
7. Avoid CAPTCHA Whenever Possible
Websites use CAPTCHA to control spam, but it affects contact form conversions. A case study analyzed all the contact forms over 50 websites. With CAPTCHA on, there was 88% spam reduction but 159 failed conversions. People who couldn't figure out CAPTCHA could have given up and accounted for these failures. You need extra effort to see an image or text, perform math calculations, and shuffle it on ambiguity. With CAPTCHA on, the company could lose 3.2% of all conversions. You can try other features like invisible spam protection instead of CAPTCHA to save a portion of your sales.
8. Perform an A/B test on Your Contact Form
A/B test is an experiment between the control and test groups where you put your website to test and analyze visitors' reactions. Test different layouts, fields, button colors, button text, and page placements. Incorporate what works best for your website. Track trends and implement ways that reduce friction. Try to reflect the action your target visitor is taking.
Building Contact Form with Forms.io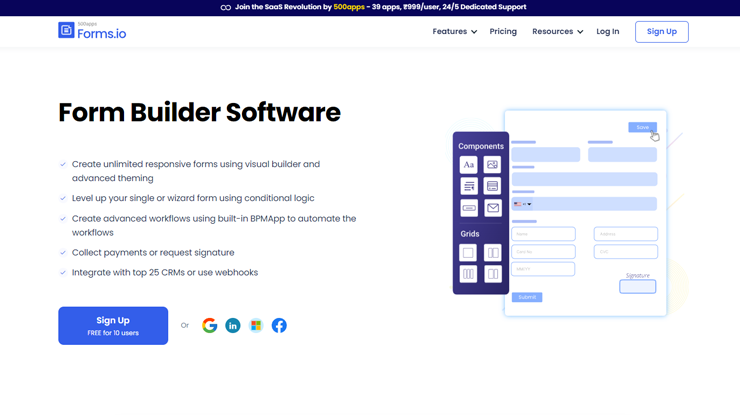 You can build and customize contact forms with in-built form templates without prior knowledge about CSS or Java. You can create a contact form in three simple steps:
Plan the content structure and select your desired fields.
Use styling options that match your brand tone and business.
Send instant text messages the moment visitors fill out the form.
Additional Noteworthy Features of Using Form.io:
Drag-drop editor to add grids, media
Pre-built templates
Form responses for better decision making
Advanced UI with theme customization - Logs, layouts, and color
Online payment facility
Embed with HTML code and share code when needed
Add marketing tags without code
Summing it Up
A contact form has a significant effect on user engagement. A high-converting contact form marks a successful online presence. For creating a user-friendly contact form, keep the language simple, use only required fields, and optimize CTA buttons. Optimize your contact form using the eight methods discussed above to increase the conversion rate and potential customers visiting your site. Make clear choices and design them in a way that reduces the friction from the user experience. If you are looking for an easy form builder software solution for creating a Contact form, then Forms.io by 500apps is the answer. The app provides code-free customized features ideal for all business brands. For more information, visit the 500apps website today!
#1
Create custom forms from scratch with drag and drop builder
#2
Simplify the form-filling process for any user with conditional wizards
#3
Use pre-built teemplates to create forms faster
#4
Integrate forms into websites with securely
#5
Capture and forward responses seamlessly
#6
Automate advanced workflows using built-in business process management software, BPMApp
#7
Filter and export responses to CRM tools for sales lead qualification
#8
Collect payments securely using Stripe, Paypal and other payment providers
#9
Unbelievable pricing - the lowest you will ever find
#10
Everything your business needs - 50 apps, 24/5 support and 99.95% uptime
Join the SaaS Revolution
All-in-One Suite of 50 apps

Unbelievable pricing - $14.99/user

24/5 Chat, Phone and Email Support