Best Form Builder Websites to Look For In 2022
Here are some of the best form builder websites businesses should look for in 2022.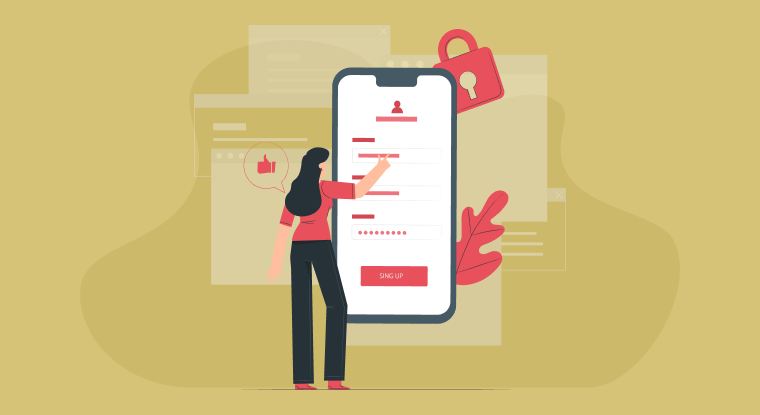 Business is booming, clients are coming in, and you have a ton of communication you need to do to close those deals and convert them into actual sales. At this point, handling many clients at the same time is not only overwhelming and can get confusing. There is also the probability that you might overlook some essential details in-between the daily hustle.
Some issues require details that are pretty impossible to have at your fingertips. A database where information is preserved for such infrequent demands saves these unique events.
Imagine a former client calling to ask about a delivery delivered to a one-time address 15 years ago. Delivering documents from that time means visiting your store for some perusals. However, with delivery forms for monthly deliveries on a database, the daunting task is a breeze.
Form builder websites can well solve your business's burden of space and time. Forms will enable you to create comprehensive, detailed information logs that can be retrieved easily at a future date. One form builder website is Forms.io where you; Create custom forms for all your business needs; Get real-time updates on the performance of the forms; Work across various business platforms; and manage data collected on the order forms through an API index both online and offline.
Best Form Builder Websites to Checkout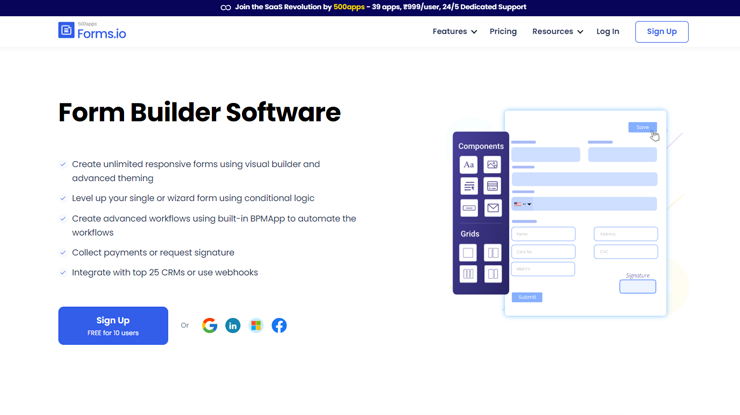 The following are some of the best form builder websites
Forms.io
This hybrid form builder combines all on-demand features for form builder websites. Forms.io boast of giving its users an API platform to access its amazing features. The form maker is easy to integrate forms .io to other systems within your business for a seamless experience.
Key Features of Forms.io
Drag and drop design
Wizard form
Form templates
Facilitates conditional logic
Translates forms
Mobile responsive
Creates an automatic API
Forms.io is easily the best form builder there is now. It has been put against other popular form builders, even Google, and still stands supreme. Forms.io easily work within teams whether for your business or corporate company needs.
Google Forms
Google has put out every possible tool for the benefit of your business. Anybody with an internet connection knows the google app and does not need much to navigate through it.
Key Features
Include Various themes to choose from
Syncs with google sheets
Supports add-ons
Support Conditional logic
Supports offline editing
Sends reminders via email
Supports skip page
Enables creation of forms with more than one section
Google forms is a free-form builder website that is available across the world. It enables you to design your form from scratch across a collection of colors. Google forms enable the use of images in your survey, a plus for illustrative questions.
When a user fills the form, the form creator automatically updates on google spreadsheets. Here you can view the performance of your form. You can also share these submissions with your partners and associates.
Add-ons like form limiter stop the respondents from submitting a form multiple times. Conditional logic facilitates follow-up questions based on an already answered question.
Typeform
Typeform is the place for creating unique, trendy, good-looking forms. Typeform boasts over 70 designed form templates. Typeform is popular among tech experts who add custom modifications to suit each business.
Key Features Include
Variety of designs to choose from
Facilitates conditional logic
It is suitable for mobile use
Typeform is suitable for respondents who fill the form on mobile. The form designer allows the reader to respond to each question at a time. That is; there is no pressure of seeing all questions at once, which is quite agitating for a respondent in a hurry.
Gravity Forms
This is the perfect builder for blog owners. The WordPress-based builder facilitates interaction with blog readers on another level. It is available in one of three available payment packages.
Key Features Include
Easy to use
Has variety form fields
Enables Save and Continue
Multiform enabled
Supports Add ons and Integrations
Limit and schedule feature
This builder is pretty easy to use among veteran form builders. Like its housing platform, Gravity forms lack a fun user experience in the creation process. For instance, unlike other builders where you choose the designs already, Gravity forms give samples in the plug-in on which you edit into your preferred look.
The forms look the same on all devices, taking on mobile mode if and when your WordPress site is mobile-enabled. As the business owner or team associate, you can limit the filling of your forms to sync with your set of preferred conditions.
Ninja Forms
This is our second WordPress builder. Most of the features of this builder are available for free. The templates available are sufficient to work with, 16 in total. They include contact forms, job applications, feedback, and Newsletter sign-up forms. Ninja Forms is ideal for small to medium-sized businesses.
Key Features Include
Up to 16 templates available
Supports Multi forms
Easy to use
Supports drag and drop editing
Common Uses of Forms for Businesses
1. Contact Forms
Forms are pretty popular in collecting the email addresses of your site visitors. This is an effective marketing strategy; collected email addresses from web forms are used to market offers and notify on new products.
2. Feedback Forms
A simple like, thumbs up or emoji comment does not cut it when you need genuine feedback from your customers or site visitors. A feedback form is an anonymous filter for who the serious customers are. A person that moves past the like button and fills your form is genuinely interested in the material they receive from your business.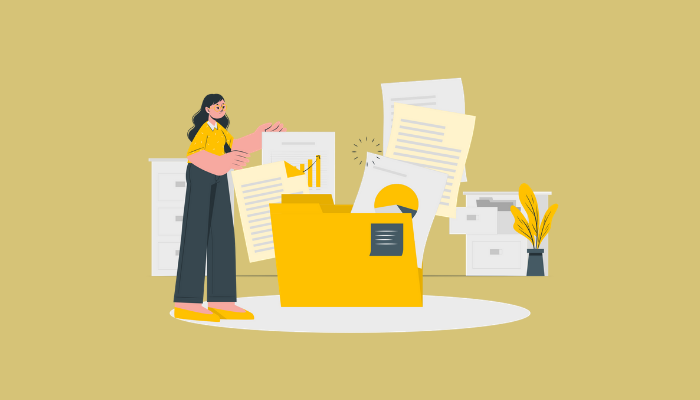 The beauty of form building is you get to highlight the areas you need to know about. From a single question, your respondents will paint a vivid picture with a diverse perspective from whence a business can develop a plan or strategy to tackle pertinent issues.
3. Survey Forms
I'll admit that before, I thought all types of forms were for surveys. We've all encountered survey forms; health surveys, political surveys, environmental surveys, religious surveys, and surveys on literally everything.
Survey forms are easy to fill across all age groups. This guarantees valid survey results when you use them in your business.
A form builder or survey builder website offers businesses and teams robust and easy communication. They are easy to use and most are freely available to all levels of business. With this knowledge, there is no excuse for any business not to cash in on the business awaiting on the other side of a form.
Conclusion
If you are running a business, it is inevitable that at some point you will need to create payment forms. At that point, you require a form builder application that offers all the features you need in one place. This will not only reduce your costs and help you organise your business, but it will also mean that your communication and data collection is done well.
Forms.io by 500apps is your new and revolutionary form builder that combines all the features you need in a form builder.
#1
Create custom forms from scratch with drag and drop builder
#2
Simplify the form-filling process for any user with conditional wizards
#3
Use pre-built teemplates to create forms faster
#4
Integrate forms into websites with securely
#5
Capture and forward responses seamlessly
#6
Automate advanced workflows using built-in business process management software, BPMApp
#7
Filter and export responses to CRM tools for sales lead qualification
#8
Collect payments securely using Stripe, Paypal and other payment providers
#9
Unbelievable pricing - the lowest you will ever find
#10
Everything your business needs - 50 apps, 24/5 support and 99.95% uptime
Join the SaaS Revolution
All-in-One Suite of 50 apps

Unbelievable pricing - $14.99/user

24/5 Chat, Phone and Email Support