10 Best Form Builder Apps in 2022
Form builder apps are the innovation of the modern man. Say goodbye to paper-pushing and say hello to an automated survey platform. Here are the 10 best form builder apps for 2021.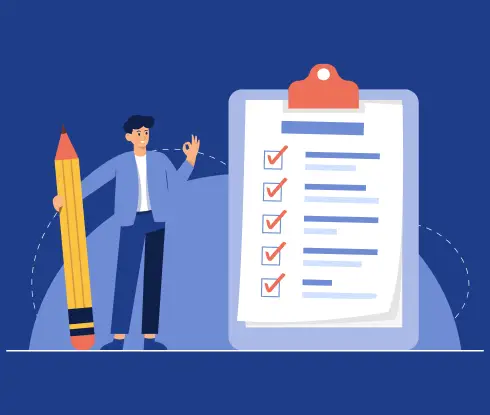 Survey taking and form filling is a constant occurrence in our everyday lives, from classroom opinions to project research. The usual and well-known method of carrying out this task would be to distribute pieces of paper to a random sample of individuals to fill out the necessary information as they feel inclined towards.
But with the dawn of the technological age of the 21st century, survey forms have taken on a completely different outlook. Gone are the days of paper distribution; now all individuals, groups of people, and even businesses create an online form. The amazing thing about the concept of innovation is that it has been taken another step in a fantastic direction.
Instead of creating forms directly on your web browser, applications known as form builder apps were created for this purpose. Form builder apps have completely taken survey form creation to a new level with improved features and an easy user interface.
Today, every business requires a form builder app. You need forms to collect reliable data, whether it's consumer or employee feedback, market segmentation, and research analysis, or even lead capture. Sir DavidBrailsford the team Sky General Manager also commented that Clear feedback is the cornerstone of improvement. For this reason, form builders can be seen to be very useful in accomplishing that task. Fortunately, there are a plethora of form builders on the market.
Form Builder applications are programs that allow you to generate customized, job-specific forms for your unit. Form builder administrators can alter and update forms based on the requirements of a project using a variety of capabilities. Users can design forms using a drag-and-drop interface with online form builder software.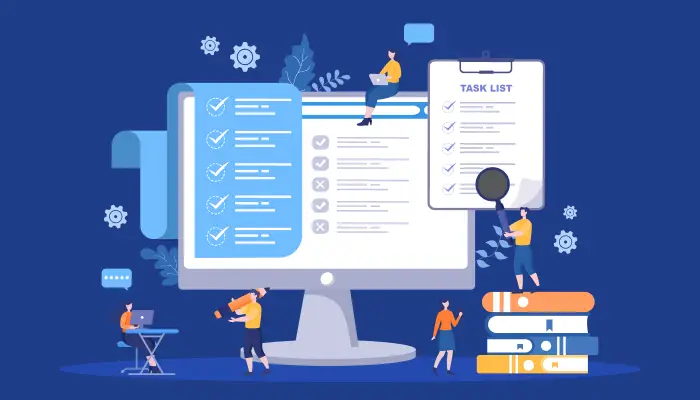 They are versatile tools that may be used to create various fillable payment forms, such as surveys, quizzes, and questionnaires. Users can obtain responses by sharing or embedding these forms on web pages. Response data is collected and saved within the program itself. You can quickly construct forms the way you want them, automate the workflow, disseminate them across numerous media, and evaluate the trends in the collected data with a form creator in place.
Top Form Builder Apps in 2022
With so many form builder platforms to choose from, you must wonder how you can know which one is the best. Here is a list to make the task simpler and help to identify the finest form builder that is flexible, quick, and easy to use, has sophisticated features, integrations, and delivers detailed data.
1. Forms.io
Here comes forms.io by 500apps that integrates into any kind of CRM or software environment you hold. With built-in templates, customizable features, user-friendly interfaces, and integration capabilities to all the forms mentioned earlier, forms.io by 500apps simplify the job of creating single-step or multi-step forms. You can also have the code snippets embed into your pages to create the forms within your website. ​The advanced features in forms.io such as payment options, checkout processing, and many others allow businesses to design perfect and personalized forms for them.
Record the responses by creating a form using drag-and-drop options and advanced UI-designer in our forms allow you to create a pleasing form to magnetize customers into your website. Our form building software comes with multiple options and integrates into all the other third-party applications.
2. Wix
This form builder fixes professional-level integrations with easy-to-use drag-and-drop design features. You can create your contact forms, employment application forms, registration forms, order forms, and questionnaires using a range of professional templates.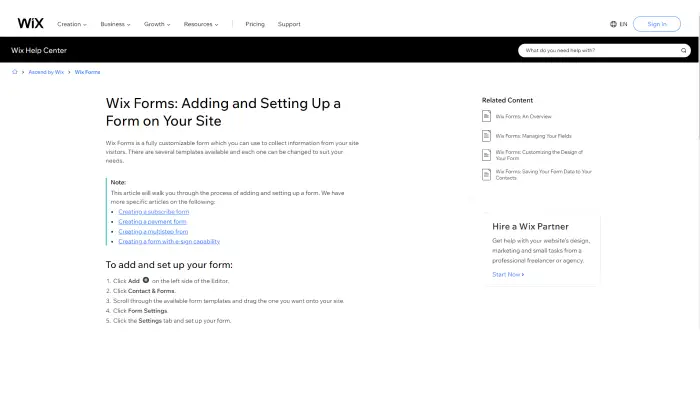 With conditional rules, autofill, and file upload tools, you can easily decide the fields that your visitors wanted to fill up. Wix Forms' multilingual capabilities allow it to collect payments, add signature fields, and translate forms. Furthermore, you may quickly collaborate on projects with coworkers. To make sure that your information is secure and protected, all of this is done with a multi-layered security system.
3. Wufoo
Quick graphical report generation of this form builder is one of the most noticeable advantages, as it allows you to make graphs and charts without having to transfer data to external platforms. Wufoo features a simple learning curve that makes it very user-friendly. Wufoo, as a strong report generator, also assists you in creating in-depth graphical reports based on the data obtained.
Over 400 form templates are available for everything from invitations to lead generation, online orders, and registrations. To match your website, you can add your logo to any of the themes. You may also add payment fields, automate workflows, and interact with other business tools using the Wuffoo form builder.
4. SurveySparrow
The form builder tool, as a multi-UI platform, ensures a tailored experience for your users, whether it's through customer feedback or market research firms. SurveySparrow's extremely engaging chat-like and conversational forms have already proven to be a hit with respondents, resulting in a 40% increase in response rates. With the freshly integrated video surveys, the mobile-friendly online survey form maker now allows you to raise the engagement quotient even higher. This user-friendly form builder program also allows you to automate and share forms across different media.
5. Google Forms
Google Forms is unquestionably one of the most popular and effective form builders accessible. The GSuite has a form builder tool that allows you to import data directly into Google Sheets. This free online form builder program has a simple learning curve that will enable you to construct forms in a matter of minutes. Multiple-choice, checkboxes, dropdowns, linear scales, and other question types are available in the forms. You may even invite participants or partners to help you create surveys.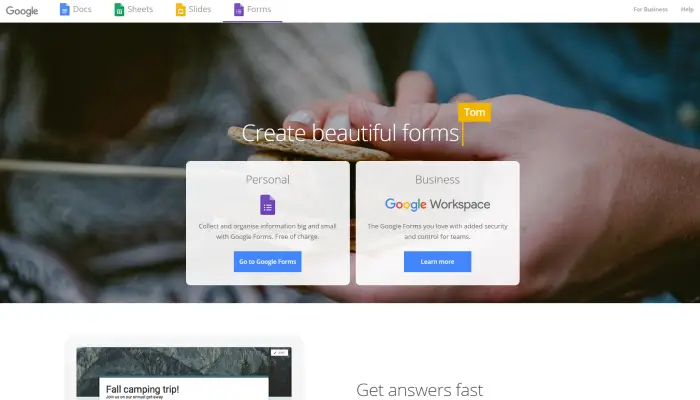 6. Typeform
Due to the conversational, welcoming experience it delivers to the end-user, Typeform is often regarded as one of the best free form builder platforms. Their form-filling experience is far from daunting because they present one question at a time and make it enjoyable and engaging. You may even customize the form's conclusion based on the user's responses. Their constructor is frequently used for quizzes and surveys due to their human-like nature.
Typeform provides over 90 layouts with image, video, and GIF support. Customizing the templates is simple because the Live Preview feature shows you how the form will appear. Finally, on mobile, their large buttons make their forms simple to use on a touchscreen.
7. Jotform
If you get the hang of using Jotform, a web-based form builder, you can design forms in a matter of minutes. JotForm has over 10,000 form templates to pick from, giving you plenty of options. Registration forms, request forms, and application forms are the categories with the greatest options. All of these sorts of forms are mobile-friendly and can be multi-page. You can also import an existing form and export the results as reports.
Templates are only one part of a comprehensive offering. Payment forms, lead generating forms, registration forms, contact forms, application forms, and more are all common uses for it.
8. Paperform
The design and feel of Paperform's product are what make it a popular form builder. Their forms resemble a landing page with photos and videos that convey a story and provide a distinctive user experience. As a result, it's understandable that Paperform could be very useful for internet advertising campaigns. The platform is also notable for its application forms, in addition, to lead generating.
Paperform accepts reservations, collects money, and connects to over 1,000 apps. Another cool aspect is that they have over 20 different question types that are utilized in conjunction with logic rules to only present relevant questions.
9. Formstack
It's a form builder program that's solely to construct forms. You may create professional-looking forms. Formstack is an excellent tool for huge organizations. You also have an A/B testing feature that allows you to compare two different versions of your forms. Another fantastic feature of the form builder is the ability to store drafts of your form and return them to them at any time.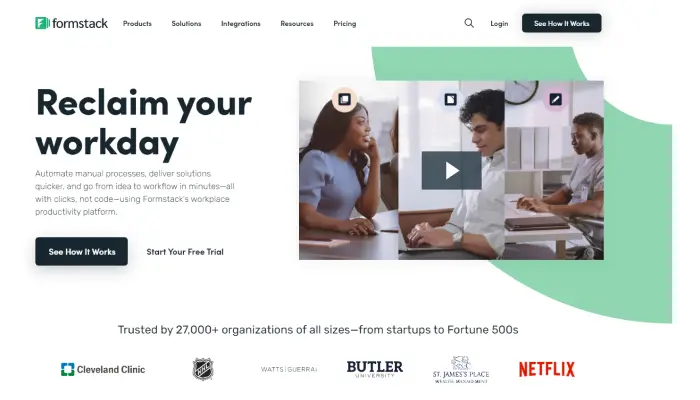 Formstack is a powerful online form builder that lets you create and design web forms without having to know how to code. To capture leads, collect online payments, gather consumer feedback, and turn clunky business processes into fast digital workflows, embed mobile-friendly forms on your website and social media.
10. 123 Form Builder
It's one of the easiest and most excellent online form builders to use, and it's well-liked for its simplicity. You can create simple, uncomplicated forms in minutes with the drag-and-drop form builder. 123FormBuilder also provides forms in a variety of languages as well as several handy connectors. There are over 1,900 templates and over 30 elements to choose from. Logic fields, multi-language forms, email notifications, file uploads, and excellent internal workflow are some examples of the features. ​ This form builder integrates with your database, marketplace, or e-commerce platform, email marketing platform, project management tools, CRM, payment storage, and cloud storage, among other things. With all of these areas to connect your data, 123 Form Builder is a great way to keep all of your data in one place without exporting it all the time.
Reasons to Use Form Builder App
To quickly construct online forms and collect data in a professional manner.
To embed or share web forms without requiring advanced technological skills.
To receive notifications anytime, someone fills out the form simply and efficiently.
To be able to look over all of the responses in one spot and see them.
The ability to save responses as Excel, CSV, or PDF files.
Analyze and exchange form reports with coworkers to devise optimization strategies to increase conversions.
On mobile devices, receive fast alerts and browse responses.
Features of Form Builder App
1. Drag-and-Drop
There are no limits to the number of fields in a form; you may add as many fields or sections as you need and adjust them using the app's simple drag-and-drop feature.
2. Ease of Use
The form builder tool is simple to use & you can create a form quickly.
3. Pre-Configured Templates
It provides you with a sufficient number of templates, each of which includes a suitable questionnaire.
4. Multiple Share Channels
This feature can send your forms via email, SMS, social media, links, and other methods.
5. Customizability
This form builder feature allows you to customize your forms according to your needs and objectives.
6. Field/Email Conditional Logic
This tool shows or conceals fields dependent on the value entered by the user. Send an email to a member of your team based on the value of a particular field.
7. Email Auto-Responder
This survey builder feature allows the application to send bespoke emails to users regularly. As long as the admin has programmed the frequency of mailing, the application handles the rest.
8. Admin Email Notification
After a form is submitted, the form builder app can send bespoke emails to the admin. You may also use field logic to add several emails as receivers.
Conclusion
As every organization has various needs and goals, the best-fit form builder tool varies from one company to the next. You should deduce what needs you will like to be met before settling on your form builder app. It's also great that our form builder app can be plugged into the established templates, and process payments from people who used the form builder software to fill out the survey form.
So, what are you waiting for? Get our forms.io by 500apps - the massive form builder app today at the cost of $14.99 per user and unlock 39+ apps at no additional cost.
#1
Create custom forms from scratch with drag and drop builder
#2
Simplify the form-filling process for any user with conditional wizards
#3
Use pre-built teemplates to create forms faster
#4
Integrate forms into websites with securely
#5
Capture and forward responses seamlessly
#6
Automate advanced workflows using built-in business process management software, BPMApp
#7
Filter and export responses to CRM tools for sales lead qualification
#8
Collect payments securely using Stripe, Paypal and other payment providers
#9
Unbelievable pricing - the lowest you will ever find
#10
Everything your business needs - 50 apps, 24/5 support and 99.95% uptime
Join the SaaS Revolution
All-in-One Suite of 50 apps

Unbelievable pricing - $14.99/user

24/5 Chat, Phone and Email Support