How to Embed Form on Your Web Page?
Do you want to embed form to display as part of your webpage without users needing to click a link to the form site? Let us show how.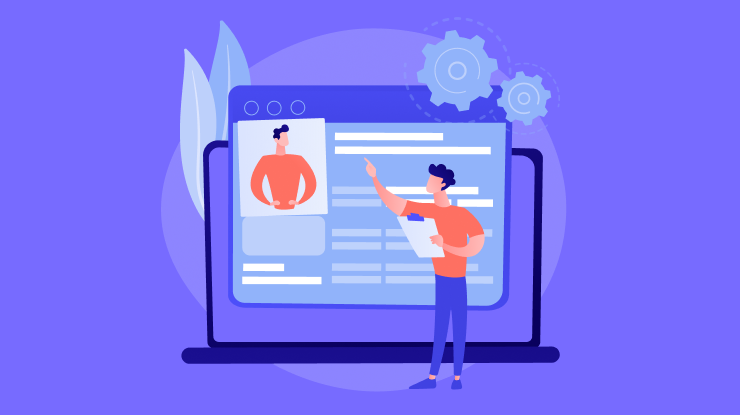 Paper is undoubtedly a limited and outdated medium for collecting data. Its application is limited, and you can lose all information on a piece of paper. Apart from this, mobile applications are easy to use, and many businesses have realised that implementing digital forms into their business processes improves data quality and workflows.
The embedded form is one of the most popular digital forms and is highly effective for business owners and persons interested in collecting surveys on various subject matters.
What is an Embedded Form?
An embedded form is a sign-up form used to collect subscribers. When a user embeds a form they created into a page on a website, it displays it as a part of the webpage and is a great way to collect leads without making the viewer leave your main web page.
Embed form when it is self-comprehensible, and you don't need form-filling instructions. You can also embed if the form is short, with a maximum of 10-15 input fields.
How to Create an Embedded Form?
There are two ways to embed a form. The most popular is using software or doing it yourself -the former being the most convenient.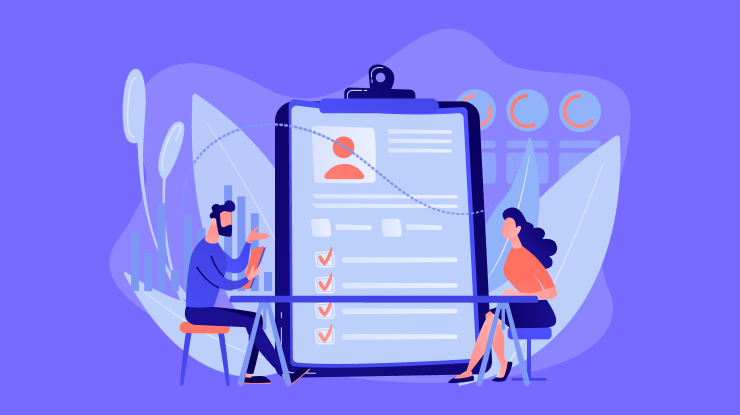 Forms.io - Form Builder that Lets You Embed Forms in Website
The best software allows you to create and use forms to interact with the user. As with all software, it reduces the workload for everyone involved. Forms.io is a good example. All you need is to drag and drop to build visually pleasing forms. Put differently, you don't need coding experience to create forms. The software offers customisable templates you can use to build forms within a few minutes. The software allows Form response management for better decision-making.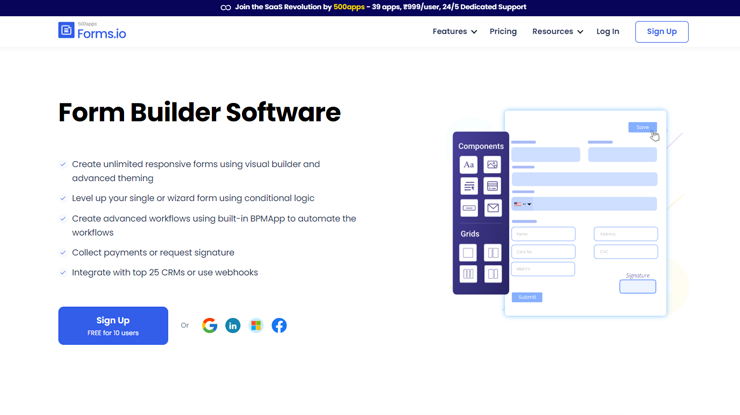 However, should you decide to create your first embedded form yourself, here are the few steps to follow
Navigate to the Forms page.
Click on the Embedded forms tab.
Click Create form.
Give your form a name (this step is for internal purposes only, and you can change it later) and select the form embedded form type.
Click Save and continue.
Select a subscriber group and click Continue. This step allows you to select the group(s) to add subscribers.
Click Continue to open up the embedded form editor.
Edit the form heading and text by clicking on the heading and text block and make your changes in the sidebar.
Edit the form's sign-up field(s) by clicking on the field block and make changes in the sidebar.
Click the pencil icon to edit the sample text within your input fields. To add another field to your form, click "Add field." To reorder your fields, click and hold the three horizontal lines on your field label in the sidebar, then drag the field up or down.
Edit the text of your button by clicking on the button block and changing the text in the sidebar.
When satisfied with your creation, click Next to save your changes and continue.
How to Embed a Form on a Web Page?
If you're looking to embed your forms on a web page, here's how to go about that;
Go to the Publish tab in the Form Builder.
Click Embed on the left.
Hit the Copy Code button.
Paste the code into your web page where you would like to display it, usually somewhere in the body of the page.
You can use forms.io to embed forms on a website or webpage. The application also makes it possible to embed your form with source code.
Benefits of Digital Forms
1. Extra capabilities
Digital forms have so many features that paper forms do not have. For example, you can use photos, barcodes, GPS location, add a signature, and easily duplicate your documents.
2. Reduces Costs and Saves Time
Many companies still use their team to collect forms in the field and spend hours entering details into their existing system. Replacing paper forms will help you save money on toner, paper, cartridges, printers, and maintenance and helps to concentrate productivity in other areas.
3. Accurate Real-time Data
Data is instantly digitised, stored in the system, and ready for further processing, whether it be an invoice issued based on a service order or a refund procedure after a refund has been requested.
4. Instant Access to Data and Tracking
The digital forms are cloud-based, and you and other team members have instant access to data. This feature is vital as it ensures accurate real-time information you can verify anywhere. Apart from this, it also improves future work and makes communication more effective.
5. Sustainability for the Environment
According to the International Institute for Sustainable Development, waste paper and cardboard made up roughly 26% (or 67 million tons) of the 258 million tons of solid municipal waste generated in 2014 and over 14% of the 136 million tons of solid municipal waste that ended up in landfills in 2014. Digital forms help in reducing these amounts of paper
Conclusion
Embedded forms allow you to organise data efficiently in different groups and later export them into an Excel file. This gives you a good overview of your collected and stored data in one application. Additionally, when you want to change the form, you can easily add a paragraph, a signature, a drop-down menu, or any other change at no extra cost. To drive your business, you can populate your database with accurate and verified information.
#1
Create custom forms from scratch with drag and drop builder
#2
Simplify the form-filling process for any user with conditional wizards
#3
Use pre-built teemplates to create forms faster
#4
Integrate forms into websites with securely
#5
Capture and forward responses seamlessly
#6
Automate advanced workflows using built-in business process management software, BPMApp
#7
Filter and export responses to CRM tools for sales lead qualification
#8
Collect payments securely using Stripe, Paypal and other payment providers
#9
Unbelievable pricing - the lowest you will ever find
#10
Everything your business needs - 50 apps, 24/5 support and 99.95% uptime
Join the SaaS Revolution
All-in-One Suite of 50 apps

Unbelievable pricing - $14.99/user

24/5 Chat, Phone and Email Support