7 Most Affordable Online Form Builders for 2023
Gathering data from customers, inquiring readers, and partners has never been easier than it is today. With the rise of online and web forms, businesses can now collect and store data quickly and easily. Find the 7 most affordable online form builders for 2023. Create professional forms with ease, without breaking the bank. Perfect for small businesses and individuals looking to streamline data collection and increase efficiency.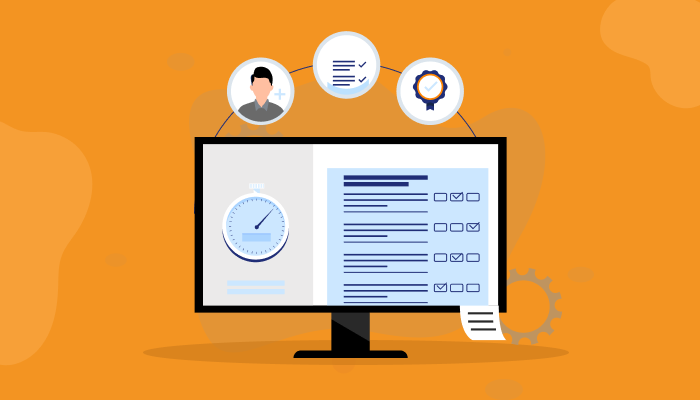 With so many online form builders available, it can be difficult to decide which one is the most affordable and best suited for your needs. So, here we will explore the most affordable online form builders, helping you to make an informed decision that will best suit your business's requirements. Plus, you'll gain invaluable insights into each form builder's features, pricing, and usability so you can make an informed decision about which one is right for you.
How Can Online Forms Help Your Business Run More Smoothly?
Online forms offer a simple yet effective way to streamline your business processes. They help your customers, employees, and other stakeholders engage with you more efficiently. With online forms, you can collect data faster and more accurately, improve communication, and manage tasks more effectively. They also reduce the need for manual data entry and manual processing.
Online forms can help you stay organized and make your business operations run more smoothly. Forms can be used for anything from customer surveys and job applications to employee onboarding and order tracking. Forms provide a platform for efficient data sharing, allowing you to collect, process, and store information quickly and accurately. Moreover, online forms can make data-driven decisions easier and promote customer engagement.
Overall, online forms make it easy to collect, store, and analyze data, which in turn can help you run your business more efficiently. They allow you to automate processes, save time, and improve communication.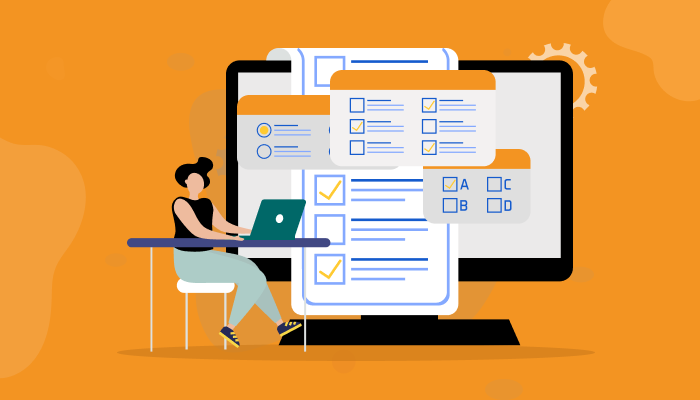 How To Create an Online Form?
.Creating an online form can be quite easy - with the right tools. You can start by selecting an online form builder that meets your needs. Many options are available, from free and basic builders to more comprehensive solutions. Once you have chosen a form builder, you will be able to begin building your form. Start by selecting a template, if one is available, or customize it to your specifications. Add in your desired fields, such as text boxes, drop-downs, and checkboxes, as well as any other features you may need. Finally, you can customize the design of the form to fit your business's branding. After you are satisfied with the results, you can easily publish and share the form with your customers.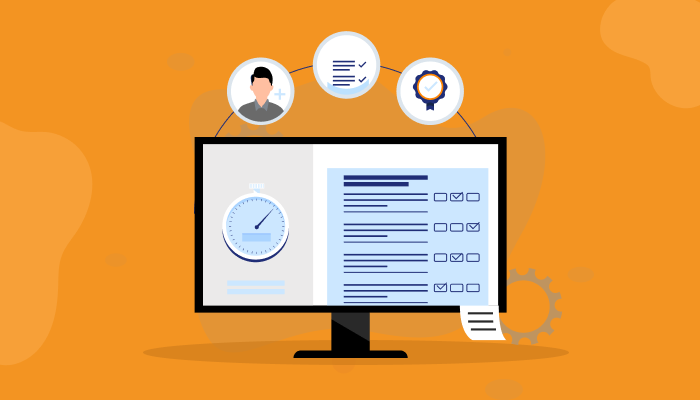 7 Most Affordable Online Form Builders - A Comparison
Creating online forms has become an essential part of doing business in the digital world. But with so many different form builders, it can be difficult to decide which is the most affordable. To help narrow down the choices, we've compiled a list of the 7 most affordable online form builders for 2023. Each form builder offers different features, so we've also included a comparison to help you decide which one best meets your needs.
With so many different form-building tools available, it takes time to know which one is best for your needs. Thankfully, a handful of affordable options can help you create the perfect form for your business. This overview will look at the seven most affordable online form builders for 2023. From drag-and-drop builders to powerful survey and workflow solutions, these tools are designed to meet the needs of any business. Whether you're looking for a way to gather customer contact information or to create custom forms and surveys, these tools can provide the perfect solution.
Wufoo
Wufoo is one of the most affordable online form builders available today. It provides an easy-to-use platform to create any form and manage the entire process. It has drag-and-drop functionality, pre-built form templates, custom styling, payment gateway integration, and more. With Wufoo, you can quickly build forms, set up notifications, and analyze results. It also offers powerful security features, including two-factor authentication, to ensure your data is safe. Wufoo also gives you the ability to customize your forms with advanced customizations. With its low price and many features, Wufoo is an excellent choice for creating budget-friendly forms in 2023.
Pros:
Easy to use: Wufoo is designed to be user-friendly, so you don't have to be a tech expert to create forms and surveys.
Mobile friendly: Wufoo's forms and surveys can be accessed from any mobile device, making it easy for your customers to fill out your forms on the go.
Automated notifications: Wufoo sends automated notifications to you and the respondent.
Cons
Limited customization options: Wufoo does not allow for a great deal of customization of forms and does not allow for code injection. This means that the look and feel of your form may not be as professional as it could be.
Limited integrations: Wufoo does not offer many integrations with other platforms and services, limiting its usefulness in many cases.
Typeform
Typeform is a leading online form builder that makes it easy to create beautiful survey forms, quizzes, and more in minutes. With Typeform, you can easily create modern and user-friendly forms. It's easy to design, build, and share forms with Typeform, and their powerful analytics allow you to track and analyze user responses. Typeform's pricing plans are also affordable and flexible, with plans starting at $35 per month. Plus, they offer a free trial to see if it's the right fit for you. With Typeform's intuitive design, a wealth of customization options, and analytics, it's a great choice for any online form builder.
Pros
Easy to use and intuitive interface: Typeform's drag-and-drop platform makes it simple to create custom forms with no coding required.
Customizable design: Choose from various templates to create a form that matches your brand and style.
Advanced logic: Typeform's logic functions allow you to tailor the form to each user's responses.
Cons
Limited Functionality: Typeform could be more functional than other survey and form platforms. This means that you may not be able to use it for more complex surveys or forms.
Limited Mobile Support: While Typeform does offer a mobile version of its software, the features available are limited.
Forms.io
Forms.io is an online form builder that offers an easy and affordable way to create customized forms for businesses. With Forms.io, you can quickly build forms with a drag-and-drop form builder and then use their range of form templates to streamline the process. All of your forms can be integrated into your website or other web applications, making it easy to collect information from customers. Forms.io also offers a range of analytics tools to track and monitor your forms' performance. Plus, your forms are secure and compliant with GDPR and CCPA. Forms.io is perfect for businesses looking for an easy and affordable way to create forms.
Pros
Forms.io provides a powerful, easy-to-use form building platform that both developers and non-technical users can use.
It is very user-friendly, making it easy to create customized forms quickly and efficiently.
It is a cloud-based platform, meaning that forms can be stored securely and accessed from any device, from anywhere.
Forms.io offers a wide range of customizable features, allowing for detailed customization.
Forms.io is part of the 500apps Infinity suite at $14.99, which includes 50+ apps for growing businesses to grow like fortune 500.
Cons
Low customization capabilities: Forms.io does not have advanced customization capabilities, limiting the user's ability to personalize forms.
Paperform
Paperform is an online form building service that is great for small to medium businesses. It offers a range of features, such as custom forms, payment processing, and analytics. The service is incredibly easy to use, allowing users to create forms in minutes. It also offers a variety of themes and templates to help users customize their forms. What makes Paperform unique is that it offers incredibly affordable pricing, making it one of the most affordable online form building services available. It also provides users with an intuitive user interface and a range of helpful tools, making it an ideal choice for businesses looking to create forms quickly and easily.
Pros
User-friendly: Paperform provides an intuitive user interface that allows even novice users to create forms and surveys quickly and easily.
Customizable: Paperform allows users to customize their forms and surveys to meet their exact needs, including adding images, videos, and text.
Secure: Paperform uses bank-level encryption to protect user data and provides an additional layer of security with two-factor authentication.
Cons
Paperform is a subscription-based service, so you have to pay a fee to use it.
The user interface is not as intuitive as other form-building tools.
The customization options are quite limited, so it may not be suitable for complex forms.
The payment integration is limited to only a few services.
It does not have any collaborative features for teams to work on forms together.
Cognito Forms
Cognito Forms is an affordable and user-friendly form builder. It features a drag-and-drop interface that makes it easy to fill, build, and publish forms quickly and efficiently. It also allows you to easily share the forms with your team. The forms can be secured with SSL encryption and integrated with popular payment providers for easy payments. With its powerful data management features, you can easily store, update, and retrieve data from your forms. You can also automate tasks with Zapier and integrate with other services like Salesforce, Mailchimp, and Dropbox. With its low pricing and wide range of features, Cognito Forms is one of the most affordable online form builders for 2023.
Pros
Easy to use: Cognito Forms is designed to be user-friendly and easy to use, even for those with minimal technical experience.
Customizable: You can customize your forms to create the exact look and feel you want, and then easily embed them on your website.
Affordable: Cognito Forms is an affordable option with plans that are tailored to fit your budget.
Cons
Limited customization options: Cognito Forms offers a limited range of customization options, which may not be suitable for all businesses.
No mobile app: Cognito Forms does not offer a mobile app, making it difficult to access forms on the go.
Formstack
Formstack is a popular and affordable online form builder. It has a straightforward drag-and-drop interface that makes it easy to create custom forms without any coding knowledge. Formstack also offers features such as field validation, payment integration, and customizable themes and templates. There are also security and privacy features that keep your data protected, such as encryption and data scrubbing. With Formstack, you can create forms for sales leads, customer feedback, event registrations and more. You can also easily embed forms into your website or send them via email. Formstack is a great choice for small businesses looking for an affordable and easy-to-use online form builder.
Pros
Easy-to-use drag-and-drop interface: Formstack provides an intuitive and user-friendly interface that allows users to create forms with its drag-and-drop builder quickly.
Integrations: Formstack offers a variety of integrations with other popular platforms and services, such as Salesforce, Dropbox, MailChimp, and Google Drive.
Automation: Automate data collection, routing, and more with Formstack.
Cons
Expensive pricing plans compared to competitors: Formstack has some of the most expensive pricing plans on the market, making it difficult for smaller businesses to afford the product.
Limited customization options: Formstack offers little in the way of customization options, limiting the creative possibilities for users.
Formsite
Formsite is a great online form builder for those looking to create forms without spending an arm and a leg. It is user-friendly, easy to use and provides a wide range of features to suit your needs. It offers an extensive library of templates to help you quickly create forms for any purpose. Its drag-and-drop feature makes it easy to customize forms as needed, and its analytics tools make it easy to track results and performance. Plus, its mobile-friendly design ensures that your forms look great on any device. Formsite is also highly secure and compliant with multiple industry standards. With its affordable plans, Formsite is an excellent option for businesses seeking an affordable online form builder.
Pros
Easy to use: Formsite is incredibly easy to use, even for those without any coding experience. It has a drag-and-drop interface that makes it simple to create and customize forms.
Powerful features: Formsite offers a variety of powerful features, allowing users to create sophisticated forms easily. It includes features such as custom HTML, JavaScript, and CSS, as well as support for multiple languages.
Cons
Limited customization options: Formsite offers only limited customization options, which can be a disadvantage if you are looking for a more custom-made form.
Conclusion
In conclusion, online forms are a great way to capture data and improve efficiency in your organization. With the right form builder, you can create almost any kind of form quickly, easily and affordably. The 7 most affordable online form builders for 2023 provide a great selection of features and options to get your forms up and running in no time. Whether you're looking for a basic order form or a complex web form, these options can provide the perfect solution.
#1
Create custom forms from scratch with drag and drop builder
#2
Simplify the form-filling process for any user with conditional wizards
#3
Use pre-built teemplates to create forms faster
#4
Integrate forms into websites with securely
#5
Capture and forward responses seamlessly
#6
Automate advanced workflows using built-in business process management software, BPMApp
#7
Filter and export responses to CRM tools for sales lead qualification
#8
Collect payments securely using Stripe, Paypal and other payment providers
#9
Unbelievable pricing - the lowest you will ever find
#10
Everything your business needs - 50 apps, 24/5 support and 99.95% uptime
Join the SaaS Revolution
All-in-One Suite of 50 apps

Unbelievable pricing - $14.99/user

24/5 Chat, Phone and Email Support