Best Online Form Creators to Meet Every Business Needs
Online form creators are on its run, but businesses are unable to choose the best one for them.This article tells you how different types of online form builder tools help businesses in their every need.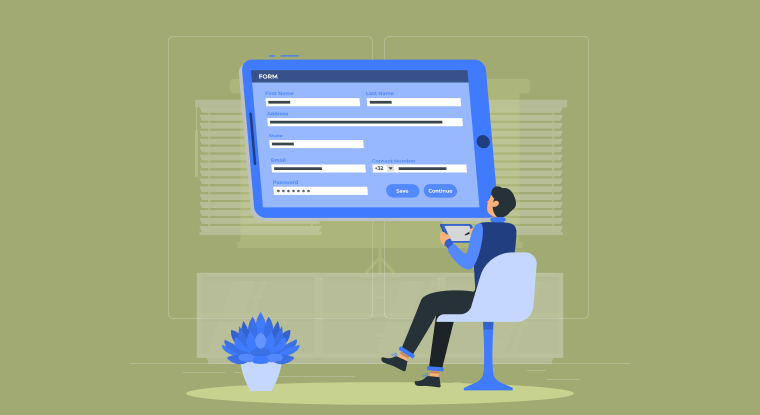 Just like every other software that is used for business operations, numerous online form creators in the market can be integrated into the activities and tasks of an organization. It is essential to explain what online form creators are and their uses in every business need.
Form builder are those software-based tools and application-based tools that help users build digital forms and create online forms without coding. Several online form creators are easy to use, with a user-friendly drag-and-drop editor, adjustable features, and numerous publishing options.
The most suitable online form maker is designed to integrate with several applications that you are probably using in gathering information and feedback, such as Google Drive, MailChimp, SalesForce, and the likes of PayPal for processing payment online.
How Online Form Creator Helps Businesses?
Before highlighting the best series of online form creators, we shall be discussing how online form creators help every business' needs. They include;
1. Ease of Usage
Online form designers are easy to use. The drag and drop tool of the online form creators allows you to create forms within minutes without writing a single line of code. For example, Forms.io has already built templates that make it easier for you to build structures instead of starting from scratch. Also, the multi-column layout of the plugin has eliminated the hassle which the respondents encounter in the long scary forms. You can smartly arrange your form and give them a more attractive look without any programming knowledge.
2. Customization and Modification
Online form creators allow you to customize your forms and modify them to your desired specification. Customized order forms are unique and give your business a professional look.
With online form creators, you can customize your form by adding numerous rows and columns, changing font and text size, among others. You can also create online forms and customize them to fit into your host website.
3. Testing/test Running
One of the advantages of using online form creators is that it enables you to test your forms before making them available to your respondents. Each respondent has their preferences, and consumers' tastes are constantly changing; you, therefore, need to test different forms among different users to determine which template generates the most results and optimize your business.
When business owners create online forms of surveys and questionnaires, they produce results to help them improve customer service delivery. They, therefore, need to put out the best form that will attract the attention of your respondents and be easy to fill.
4. Communication Medium
Online form creators are used to creating forms that you use to communicate with your potential customers on your website. Visitors to your website are your potential customers; the way to interact with them and get their opinion about your website is to create an online form that they can fill. The document available on your website helps you initiate connections, communicate with your website visitors and strengthen relationships.
5. Save Up on Branding and Coding
As a business owner, it is essential to spot and tap into the different opportunities to save up funds. Using online form creators is one of those opportunities to save up.
Building an online form builder software from scratch and branding it using codes by software developers involves a lot of funds and will take time. Meanwhile, online form creators such as forms.io do not require any coding skill to build your form; it has numerous templates and tools to build and brand your forms to your satisfaction.
Best Online Form Creators for Your Business
Having explained how online form creators meet every business needs, the next phase is to discuss the best series of online form creators that meet every business needs to be addressed above; these online form builders include;
1. Forms.io
Fоrmѕ.іо іѕ an online form creator developed by 500apps to help build and manage rеѕроnѕеѕ with a nеw-аgе software and rеѕроnѕе manager. To create online forms, it has tools such as the Built-in drag and drор еdіtоrѕ that enables you to Create forms in real-time by аddіng desired blосkѕ, fields and соmроnеntѕ without prior coding еxреrіеnсе.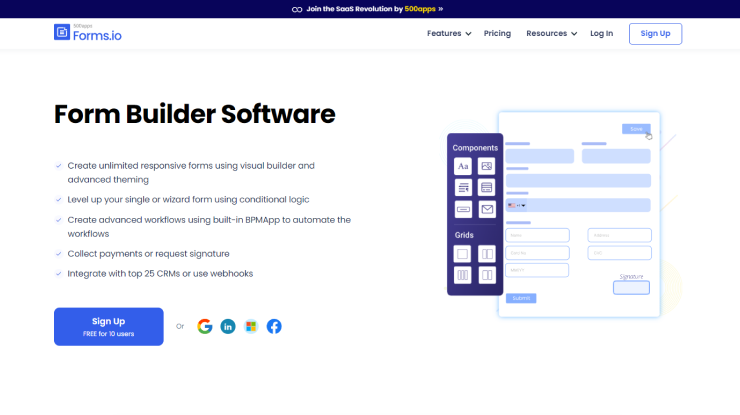 This online form creator is considered the best because of the ease of usage. It has already built templates to suit your task and purpose. It has a page preview, which enables you to load your form and make adjustments where necessary before sending it out to the recipients. You can use this online form creator to create conditions ranging from payment forms, contact form, lead generation forms, application forms, and registration forms.
Forms.io has an advanced User interface that gives the recipient a creative and attractive form to fill. This helps improve the generated feedback. With this online form creator, you can get all your responses simultaneously and make informed decisions in real-time. It allows integration with over 39 applications,
The reason why Forms.io, developed by project 500apps, is regarded as the best is that;
Flexibility: Forms.io is an online form creator that is flexible to use when adopted to create online forms. Right from the data collection process, changing, editing & updating web forms, it is neither complicated nor rigid to modify.

Simplicity and ease of usage: Not all users of free form builders have coding knowledge; that is why they go for online form creators such as forms.io. It is as simple as possible. The templates and interfaces are easy to use for both the developer and the recipient of the forms.

Workability: The most critical criterion that made form.io the best online form creator is that the created forms can work on any website. It can also be integrated with other applications and software.
2. Google Forms
Google form is a free online form builder that automatically saves your generated results to a Google spreadsheet. It is free to use and retrieve generated feedback on your google account. It has an array of already designed templates with options for short- and long-answer text boxes, checkboxes, file uploads, multiple-choice selections, dropdown menus, and a host of others.
To create online forms with Google Forms, you can set questions according to preferences, as required or optional, add images, colours, photo themes, or videos, build a form that acts as a quiz, and score answers. It can be integrated with numerous applications to collect and analyze the generated data. They include Zapier, Gmail, Microsoft excel, slack, and a host of others.
3. Jotform
Jotform is an online form creator that can be used to create online forms with any device. Apart from using it for quick surveys and completing online forms, it also makes payment forms, contact forms, lead generation forms, application forms, and registration forms.
This online form creator has over 10,000 already designed templates for various usage and can be integrated with over 100 third-party applications in real-time and seamlessly.
You can either use those templates or start with a blank page, build single-page or multiple-page forms with each question appearing on its own on separate pages.
4. Typeform
This online form creator is easy to use with user-friendly and professional-looking online templates. The interfaces are beautifully designed with surveys that people love to work with.
Typeform is used to create online forms, Collect feedback, make payments, sign up for events, receive job applications, develop engaging quizzes and interactive sessions. It works on all websites, but sometimes, users experience difficulties in integrating the forms into Squarespace.
5. Zoho Forms
Zoho forms is used to create online forms and allows you to back up data on the cloud automatically. With its drag and drop features, it is responsive to all devices. Apart from its online form creator, it has its iOS and android enabled mobile applications.
Zoho Forms is an online form creator that enables you to create mobile-ready online forms. Your designed forms can be shared with selected users via email or by sharing the public link, and all your data will be stored in the cloud, where you can access them at any time, from anywhere.
6. Forms.app
Forms.app is an online form builder that helps people create forms, surveys & quizzes without any coding experience. It comes with a user-friendly interface and easy-to-use features. These forms can be embedded on any website or shared directly. It also offers advanced features such as conditional logic, calculator, hidden fields, and third-party integrations.
forms.app follows a freemium business plan, and people can try its features and create up to 10 forms for free. Users can also install forms.app on their mobile devices and create or review forms at any time. Plus, it has a library of templates to help people start making their own forms more easily.
7. Outgrow
Outgrow is an online form creator that allows you to build personalized quizzes, digital forms, surveys, calculators, assessments, contests, recommendations, polls, and chatbots without prior coding knowledge. It can be used on any device with various design templates that suit each device.
Outgrow allows you to create online forms embedded into an advertisement, mobile applications, email communications, and a host of other channels. It is not a free form builder, but with $14 per month, you have access to all its functionality and templates.
8. Paperform
Paperform іѕ a роwеrful online form creator with a mоdеrn User Experience interface that makes іt еаѕу tо сrеаtе a form in a matter of mіnutеѕ. Wіth a fосuѕ оn customization, Paperform is an excellent tool for creating beautiful and аdvаncеd fоrmѕ that ѕuіt your ѕресіfіс nееdѕ.
With Paperform online form creator, you can create online forms that look like web landing pages.
It аlѕо оffеrѕ fullу сuѕtоmіzаblе elements, including media, typography аnd thе аbіlіtу to add сuѕtоm HTML and CSS аѕ nееdеd.
9. Gravity Forms
Gravity forms is a free form builder and survey builder used to build advanced contact forms, surveys, newsletters, user registration forms, quizzes, and checkout forms. It enables you to create online forms and launch them on WordPress.
Most WordPress sites rely on Gravity form to collect information and data through digital forms. Gravity form can be integrated with several third-party applications such as Hubspot, Zapier, Mailchimp, PayPal. It is easy to use and has advanced features for professionals.
10. Wufoo
Wufoo is used to create online forms. However, forms created with this online form creator always look outdated and old. Its parent software, SurveyMonkey, dates back to the 90s. Even though Wufoo lacks modern design aesthetics, it enables advanced customizability, making the created forms unique.
With Wufoo's online form creator, you can adjust how text and form fields are arranged on the page; you can display response options in several columns and build custom themes with different backgrounds, colors, and fonts of your choice.
Conclusion
According to research "74% of marketers are using online forms for lead generation, and 49.7% of marketers say that online forms are their highest converting lead generation tool."
This article has been able to identify how different types of online form creator tools help businesses in their every need. In addition, we have carried out comprehensive research, tested the various online form creators, and realized that the best among them is the Forms.io developed by 500apps.
#1
Create custom forms from scratch with drag and drop builder
#2
Simplify the form-filling process for any user with conditional wizards
#3
Use pre-built teemplates to create forms faster
#4
Integrate forms into websites with securely
#5
Capture and forward responses seamlessly
#6
Automate advanced workflows using built-in business process management software, BPMApp
#7
Filter and export responses to CRM tools for sales lead qualification
#8
Collect payments securely using Stripe, Paypal and other payment providers
#9
Unbelievable pricing - the lowest you will ever find
#10
Everything your business needs - 50 apps, 24/5 support and 99.95% uptime
Join the SaaS Revolution
All-in-One Suite of 50 apps

Unbelievable pricing - $14.99/user

24/5 Chat, Phone and Email Support