Companies today depend mostly on the internet to gather customer information. The right information provides a company with insights about its customers. With this information, it's easier to make crucial decisions that positively impact the business. Data from customers can be collected using online forms. This makes it vital for businesses to know how to build these forms and integrate them into their systems.
Since you are here, the chances are that you are interested in creating online forms for your business. But, probably, you have been confused not knowing which software is the right one for your company's needs. Worry not because this post will help you understand how you can quickly build online forms and install them into your running system.
Best Way To Make Online Forms in 2022
Before outlining for you how easy it is to build online forms, you should rest assured you are making the right decision by choosing to build an online form for your business. You've probably filled a couple of surveys over the internet. Usually, these are simple questions meant to gather crucial information from customers. Maybe at some point, you also used forms to fill in your personal details before making any online payments.
So, online forms are simply interactive forms that allow you to input details into a given webpage. The information you give out can then be analyzed and used to make important business decisions like marketing or sales decisions.
Online forms provide companies with an ideal way of collecting data from their customers and prospects. Since you create the forms on your own, it means you collect objective and meaningful data for your business. From there, you can use the data collected to make analytic-driven decisions. For example, the more informed you are about your customers, the better you can target them with promotional messages that resonate with them.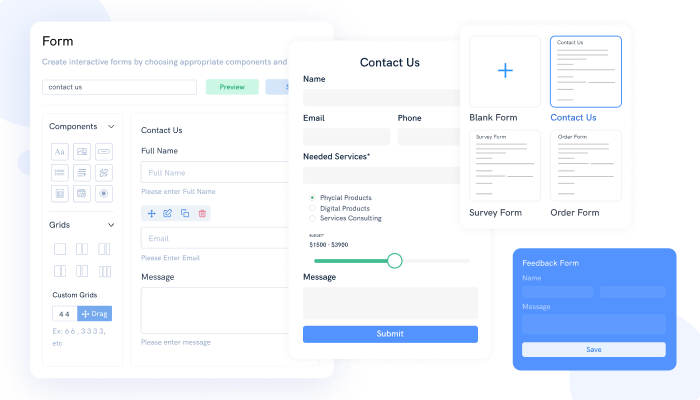 Which is the best way to ensure you make online forms for your business?
Use Form Building Apps
Whether you want to create lead generation forms, contact forms, or payment forms, the easiest way to create these forms is by using form-building apps. These apps are already programmed with numerous templates you can choose from to create your preferred forms. These templates are also customizable, which means you can modify them depending on the type of forms you want to build.
You might think that using form-building apps will require some form of coding. Well, there is no coding expertise required from you. You don't even have to be an IT expert to use form-building software. With just a few clicks, you can create the forms of your choice. There are also step-by-step wizards to guide you on what you should be doing before publishing your work.
When building online forms, you have the option of coding the software from scratch to suit your business needs. However, you might not be skilled enough to code software within a short time. This is what a form builder app will save you time and money.
One good example of form builder software gaining popularity is Forms.io. It's a powerful tool that will make it easy for you to create captivating online forms while boosting your customer experience. With the highly-interactive forms you will be creating, you can be sure to increase your conversions. Forms.io is packed with the best templates that are easily customizable without any coding skills. Besides collecting data from your prospects and customers, you can do a lot more with this software.
Some of the Benefits of Using Form Builder Tool Include:
Create Forms Tailored to your Business Requirements
The customizable templates offered by Forms.io simplify the whole process of designing your online forms. You only need to pick a template the fits your profile and modify it further.
Meet Organizational and Market Needs Faster
Using form builder apps relieves your team from tons of paperwork it would have required to go through while collecting customer data. In addition, insights provided by the right tool can be quickly analyzed using analytical tools. Therefore, you gain a competitive advantage over other businesses using conventional forms.
Different Types of Online Forms
Online forms will vary depending on what you wish to create. However, these different types of forms can be integrated into your website to provide you with the information you want to gather. For instance, an online form can be as simple as creating a customer feedback form. With this form, you can learn more about your clients' feelings about your products or services. This helps you to know what needs to be changed to ensure your clients' needs are fulfilled.
Types of Digital Forms Include:
Sales contact
Newsletter signup
Account signup
Event registration
Contest registration
Online order and payments
Which Online Form Builder is Best?
Well, to answer this question honestly, we would say, "It depends!" The best form builder in the market depends on what your business wants. Which type of form are you looking to create? Which distinguishing features do you want in an online form builder? Identifying your business needs will ensure that you settle for the best platform that offers you customizable form templates you can use.
Another thing is that you want to find a form builder that fits your budget. Again, think of Forms.io; with just $14.99, you can benefit from all the amazing features this tool offers. It would help if you also considered going through reviews to know what others say about the software you intend to use.
Conclusion:
So, it makes sense to use online forms over traditional forms that require huge piles of paperwork. If this is what you eliminate in your business, then you should consider using form builder apps. Settle for software that meets your business requirements. Don't just choose any tool because it's free to use. Evaluate the features that come with the software and see whether they will be useful to your users. More importantly, remember to use Forms.io because it's a tool that has been tested repeatedly to ensure it doesn't disappoint.