Best Practices to Get Meaningful Insights from Customer Satisfaction Survey
Knowing how your customers feel about your business can help in taking important business decisions. To do this, you need to engage the customers in the best possible ways to get their valuable responses. Here are the best customer satisfaction survey practices that you should know as a business.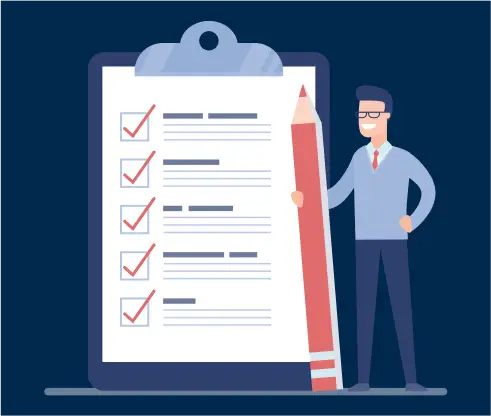 In business, customer satisfaction is vital. In a tweet by Victoria Taylor it is said that: "to deliver a great customer experience every time, you need to always think about the next time." Customer satisfaction surveys provide you with game-changing insights and feedback that allow you to tap into your customers' psyche and boost customer experience. Utilizing this one crucial tool can transform your business from a struggling startup into a traction-building machine full of loyal customers.
However, creating the perfect survey requires more research and thoughtful strategy than you'd initially assume. Thankfully, we'll break down everything you need to know to make the growth-inducing customer satisfaction survey of your dreams.
What are Customer Satisfaction Surveys?
Customer satisfaction surveys (also known as CSAT) are surveys sent to customers to assess their overall satisfaction levels with different aspects of your organization. It may be your products, services, your approach in the market, or the level of customer service you provide - pretty much any factor your company needs to optimize.
Customer satisfaction surveys are critical for companies to gauge new customers, potential clients, or random visitors about what they bring to the market. The resulting insights can be analyzed and used to implement a new product or service, make changes in the company's policies, or even completely change a company's brand identity.
However, customer satisfaction surveys must be designed in a way that will let you find out precisely the information you need. A poorly designed customer satisfaction survey will not only be a waste of time but also valuable resources, both employees and money. Ultimately, when you ask the right questions in the right way, the answers will tell you what you need to implement or remove to improve customer experience, enjoy higher customer retention, and get satisfied customers.
Why is Customer Feedback Important?
This graphic from Twitter shows that customer satisfaction improves brand loyalty. Here are some of the key points showing why customer feedback is important:
1. Customer Feedback Provides Insights to Improve Service and Overall Customer Experience
It's imperative to find out what your customers think about your product. Listening is essential to keep your customers happy. Taking their expectations into account increases their loyalty toward the brand.
2.Customer Feedback Can Improve Customer Retention
You are connected directly with the customers, thanks to their feedback. If your customer is unhappy, you can listen to them, work toward making the product more customer-friendly, and develop a deeper bond with them.
3. Customer Feedback Identifies Happy Customers Who Can Become Advocates
Customers are likely to recommend your product/service to their friends or relatives, which is a great way to stand out from your competition.
4. Customer Feedback Helps Inform Decisions
Thanks to customer feedback, you get actual data to make significant decisions.
Types of Customer Satisfaction Surveys
Not all customer satisfaction surveys have the same goal, so they are all designed differently depending on the exact objective. Some are designed to measure satisfaction; others are to grade the company's performance in a specific market segment.
Depending on what you want to find out, different types of customer satisfaction surveys would fit a specific situation. The most common types of customer satisfaction surveys are explained below.
1. Customer Satisfaction Score (CSAT) Surveys
The customer satisfaction score survey, or CSAT, is one of the most popular survey methods to measure satisfaction. They are popular because of two reasons: their simplicity and efficiency. The results are easy to read as they are numerical in a clearly defined range, so it's easier to get an idea of what the customers think about the specific subject.
They're also relatively simple to answer for customers, so it's easier to get their opinion with score surveys than other, more lengthy survey methodologies. It usually takes no more than a few seconds for a customer to answer a question. You can go further and ask multiple questions to get the overall view of how your customers feel about various aspects of your organization and measure customer experience.
Companies typically conduct CSAT surveys periodically to check the efficiency of their strategy, project, or the results from a change in the company's policies.
2. Net Promoter Score (NPS) Surveys
Net Promoter Score (NPS) Surveys are developed from one single question: "On a scale of 1 to 10, how likely are you to recommend this product or service to a friend or colleague?". They are used to test the loyalty of your customers and the likeliness of them promoting your brand services to others.
NPS surveys are typically used by companies that want to assess customer satisfaction regarding their products, services, or the organization's overall brand from a quantitative and qualitative perspective.
3. Customer Effort Score (CES) Surveys
Customer Effort Score (CES) Surveys are designed to evaluate how much effort is required for a customer to complete a specific action. For example, if you're a SaaS business, you might use a CES survey to assess how easy or difficult it is for new customers to complete onboarding for your platform.
You can set up the answers in a CES survey in three ways: numerical, textual, or visual. CES surveys are popular for predicting customer behavior and satisfaction, and with it, brand loyalty. The easier it is for a customer to use your products or services, the more likely they recommend your brand.
How To Create Customer Satisfaction Surveys for a Better Customer Experience?
1. Define a Clear, Attainable Goal for Your Customer Satisfaction Surveys
What does a clear, attainable goal look like? Let's use an example. Say you want to understand why customers leave your business at a high clip. Instead of a goal like: "I want to understand customer satisfaction better." Your goal should be something like: "I want to understand the key factors that are leading our customers to leave—whether internal or external forces cause these reasons."
Once you've come up with your goal, you can use it as a reference to prioritize the top questions you want to ask.
2. Use the Right Survey Type
Before you start collecting customer feedback, it's vital to pick a survey type that best suits your team's goals. Think about the information you're trying to obtain and how you'd like to capture it. Are you looking for quantitative data? Or qualitative feedback?
If you're looking for results that are easy to sort and can highlight significant trends at a glance, then you may want to consider an NPS or CSAT survey. But, if you're looking for more descriptive information outlining a customer's experience, then you should use a CES survey.
3. Use the Right Survey Questions
Another key to obtaining the feedback you're looking for is picking the right survey questions. For this step, take your time and make thoughtful decisions because the type of questions you include will play a significant role in the quality of feedback you receive.
Additionally, don't be afraid to use multiple question types within the same survey. Just make sure each type is grouped together so that the experience is more delightful for the respondent.
4. Right Survey at the Right Time
With surveys, timing is everything. If you deploy your survey at the wrong moment, you're not going to see successful results. This means you should isolate the ideal touchpoints in the customer journey to ask people for feedback. Typically, these are times when your company has completed an interaction with the customer and has failed or succeeded in providing the need they're looking for.
5. Keep it Short
This may be the most important customer satisfaction practice to remember when maximizing responses. Two-question customer satisfaction surveys will allow you to maximize responses while still gathering helpful information. First, use quantitative questions such as NPS or CSAT to give your customer satisfaction level a numeric value you can compare year over year. Then, use a word-based follow-up question. This will show your strengths and weaknesses more specifically.
6. Regular Customer Feedback is a Necessity
Customers are smart. And, if you only send your surveys out after poor interactions, they'll be reluctant to fill them out. That's because they know that you're only reaching out to keep their business and not because you care about their satisfaction.
Instead, you should collect feedback regularly to show that you're constantly trying to improve customer experience. This demonstrates a long-term commitment to customer satisfaction and building rapport with your customer base. Plus, this will give you more diverse feedback that's not solely positive or negative.
7. Limit the Number of Survey Questions
If you're new to customer satisfaction surveys, determining the correct length can be tricky for some businesses. Asking too many questions will cause customers to abandon your survey, but not asking enough questions spoils an opportunity to obtain information. Finding the right balance will optimize your survey's completion rate.
While there's no universal standard for survey length, most research suggests that the ideal length should be between 10 and 20 minutes. If it takes longer than 20 minutes to complete, participants will lose interest, and your abandonment rate will start to increase.
8. Ask Questions in Different Ways
When you're coming up with questions for your customer satisfaction surveys, pay attention to how you frame them. The language you use will impact how participants answer your prompt. If it's biased or encouraging them to respond in a certain way, this will skew your survey results. If you're not sure if your survey is biased, have a few employees or peers take it and ask for their feedback.
9. Stay Away From Asking Double-barreled Questions
Double-barreled questions are when you ask for feedback on two separate things within a single question. Here's an example: "How would you rate the quality of our product and support?"
How would the respondent answer this question? Would they address the quality of the product? The quality of support? Maybe they'd skip the question or (worse) leave your survey altogether.
You can fix a double-barreled question by either choosing one thing to ask or by breaking the question up into two separate ones.
10. Keep the More Personal Questions to the End
Treat your customer satisfaction surveys like a conversation.
Would you start any exchange by asking someone how old they are? Probably not. Instead, you'd engage in small talk first and gradually move on to more personal topics. Similarly, keep your early set of questions light and straightforward, and then slowly move towards more personal questions (often taking the form of demographic questions).
11. Survey Testing and Preview
Before you deploy your survey, you should test it with your target audience. Instead of sending it to every customer at once, send it to a small group and see the results you get. Follow up with these customers and ask for their feedback on improving the survey experience. Once you feel comfortable that you've created an effective survey, then you should send it to the rest of your customer base.
12. Follow up With Respondents
Now that you've got insights into your customer satisfaction levels, it's essential to close the loop and follow up with customers in a meaningful way. Why let the data lie dormant when there are so many proactive efforts you can take here?
It's important to follow up with survey respondents. Closing the feedback loop with valuable customers that complete your satisfaction survey is simultaneously the most important and often most-ignored step in a successful customer satisfaction measurement campaign.
Ensuring your team acknowledges and thanks anyone who completed the survey is critical to ensuring that customers will continue to provide you feedback -- because it's about building trust and showing them value. Even if what the customer is requesting is not something you will do, Responding is always better than nothing at all.
13. Put Survey Results into Action
As with any form of data collection, one of the biggest mistakes is putting all that effort into collection and perhaps even analysis, but then coming up short when it comes to action. But that's why we collect data: to inform decisions.
How you act on your customer satisfaction data will vary according to the company and the situation (and resources available and many other variables). Still, it's essential to have a plan of action. Ask yourself, "If I receive X feedback, what will I do with that information?"
Just asking this question will put you on a trajectory to improve your customer experience and put you on a continuous customer feedback loop of better customer insights and actionable takeaways.
Conclusion
If you do not measure customer satisfaction, now's a good time to start. Not only does it give your customer service team an indication of how well they are performing, but it can also help you understand your customers better.
Co-founder of Microsoft Corporation Bill Gates said: "Your most unhappy customers are your greatest source of learning."
These customer satisfaction best practices for your surveys will help you gather more responses and accurately measure and compare your customer satisfaction metrics year over year. When you know what your customers are thinking and what they're looking for, you can make better business decisions for the future.
With Forms.io, you can build great forms to provide insights from customer satisfaction and help you grow your business even faster by using your customer's feedback to deliver better services. Create engaging forms that customers love answering and enhance customer experience like never before.